Illegally Imported Fish Devastating the Livelihoods of Cambodian Communities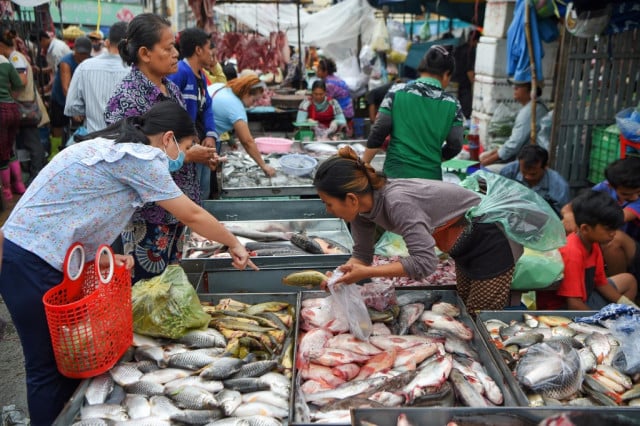 Ou Sokmean and Phoung Vantha
January 11, 2021 12:36 PM
Despite temporary suspensions of valuable fish species, Vietnamese imports still trickle into Cambodia's markets, leaving fishing communities at a loss as to how to earn a living.
PHNOM PENH--Cambodia's Ministry of Agriculture has introduced measures to temporarily suspend fish imports from Vietnam to help local aquaculture products as threaten the sustainability of farming.
Key species, the import of which is temporarily banned, include the Pangasius Krempfi, Spot Pangasius, Catfish and the Great Snakehead.
The Cambodian Aquaculture Association (CCA) urged the authorities to effectively prevent illegal imports from Vietnam after traders have been known to smuggle fish to Cambodia's market, according to Sok Raden, chair of the CCA.
Raden warned that the Agriculture Ministry's letter has placed burdens on traders who have complained that local fish don't match the size and quality of Vietnamese imports, making it harder to sell Cambodian produce. However, Raden added that Vietnamese imports may contain chemicals not found in locally sourced fish.
Despite this, fish farmers nationwide are seeing lower yields, lower profits and fewer orders from traders this year—many, Raden said, blame the ineffective suspension of Vietnamese imports.
Eng Chea San, director-general of the Fisheries Administration at the Ministry of Agriculture repeatedly declined to comment on the issue, but a statement issued by the Agriculture Ministry on Jan. 8 said that a representative fish importers and exporters had agreed to the ministry's suspension order.
Much of the fish trade between Vietnam and Cambodia appears to circumvent the Agriculture Ministry's orders, with Vietnamese traders in Prek Phnov fish market openly selling banned species as recently as Jan. 6, 2021. Raden noted that the fish smuggling often occurs through the Chrey Thom International Checkpoint, where illegal species are imported along National Road 21, through Kandal Province and into Phnom Penh.
He requested that authorities do more to effectively implement the law to suspend illegal imports and protect the livelihoods of fish farmers throughout Cambodia. The significance of fish in Cambodia cannot be underestimated, with more than 12,000 tons being imported in 2019—a figure that grew to 17,000 tons by Dec. 25, 2020.
However, damming upstream along the Mekong River—notably in China and Lao PDR—coupled with climate change, overfishing and haphazard development within Cambodia has seen many fishing communities ravaged.
Catches have declined, livelihoods have been lost and ecosystems have been destroyed as communities struggle to eke out a living from a once bountiful industry. The economic strain applied by the COVID-19 pandemic has only exacerbated an already ecologically delicate situation and yet government response to the growing urgency of the situation for Cambodia's fisheries has been sluggish—whether this will change over the course of 2021 remains to be seen.
Related Articles
February 18, 2020 8:59 AM