Immigration Department Releases New App for Registering Foreign Residents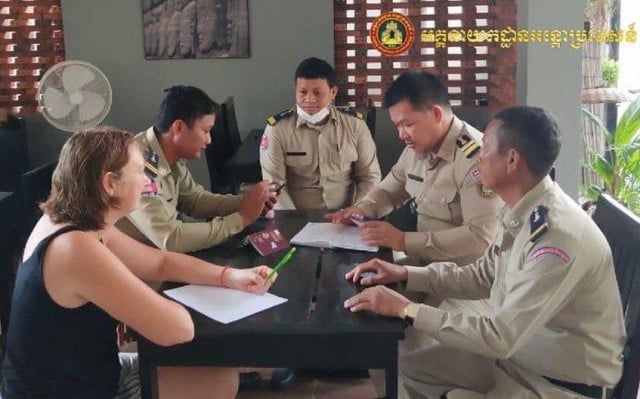 Phoung Vantha
April 29, 2020 11:16 AM
The Foreigner Presence in Cambodia System is designed for landlords and guesthouse owners to register foreign tenants and visitors, but foreigners risk being denied visa extensions if the landlord fails to register them.

PHNOM PENH--The General Department of Immigration recently announced that, from July 1 any foreign national wishing to extend their visa will need to have their landlord register them on the Foreigner Presence in Cambodia System. Foreigners will be expected to give their passport details to the landlord or owner of the accommodation they will stay in, the landlord or property owner will then upload the details to the new app.

The Interior Ministry's Immigration Department ordered all authorities across the country to alert all landlords, guesthouse owners and hoteliers to the new Foreigner Presence in Cambodia System mobile phone application. The app will allow owners of accommodation to update the Immigration Department on foreign occupants digitally, rather than submitting physical paperwork.

"Starting from July 1, 2020, those foreigners who failed to register themselves on the Foreigner Presence in Cambodia System mobile phone application will not be granted a visa extension," the Immigration Department said in a statement on April 27.

Keo Vanthan, the deputy director-general of the General Department of Immigration said that all accommodation owners have to register their foreign guests and tenants within 24 hours, as it's the law.

He went on to say that the app is not only for foreign people living in Cambodia, but also tourists who wish to extend their visas. Cambodian authorities will not grant a visa extension to foreigners unless they have their name in Foreigner Presence in Cambodia System, but added that it is the landlords or property owners who must register their foreign guests.

"We put the measure in place for any company, hotel, guest house or casino that allows foreign nationals to stay without registering them, so when those people want to renew their visa, they will not be able to, so the foreigners must tell the accommodation owners to enroll their name in our system," he said.

The Foreigner Presence in Cambodia System app is available on both Android and iOS under the abbreviation "FPCS-GDI" and was created around six months ago. It will record foreigner's passport information when they arrive in Cambodia and are registered by their landlord or guesthouse, then it will also record when their occupancy comes to an end.

"The main purpose of FPCS-GDI is to ensure the safety and security of foreigners in case of an emergency when they are traveling throughout Cambodia," the General Department of Immigration said.

Article 18 in the Law on Immigration requires all property owners to inform the competent authorities of a new "immigrant or non-immigrant alien" checking in within 24 hours or risk a fine. Similarly, Article 31 of the law states that a fine of 10,000 Khmer Riel ($2.50) to 30,000 Khmer Riel ($7.30) is imposed on a person who violates Article 18. In the case of repeat offenders the fine will range from 30,000 to 60,000 Khmer Riel ($7.30 to $14.70) to be paid by the property owner.


Related Articles