Importing Tigers to Cambodia's Forests Still Uncertain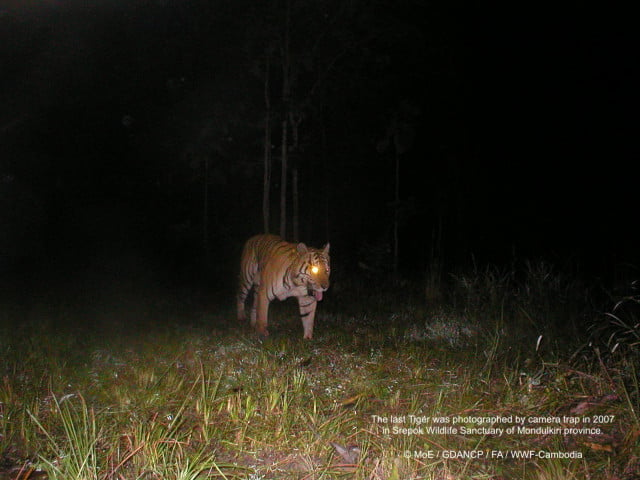 MONDULKIRI – Cambodia's ambition to reintroduce wild tigers in the country remains stalled, six years after an action plan aiming at reviving the tigers' population was first approved. Experts are still studying suitable habitats for the felines, with a sufficient prey base, while environmentalists urge the government to double the efforts to protect the forest and eliminate snaring problems and poaching.
An Indochinese tiger was last spotted by a camera trap in 2007 in Mondulkiri province. But no other picture has been captured since then. In a move to revive the tiger population, the Cambodian government approved the Tiger Action Plan in 2016, a program that opens the door to a reintroduction of the species in the country, after acknowledging tigers were "functionally extinct".
The plan is part of a worldwide initiative started in 2011 and named Tx2, involving 13 countries. Its goal is to double the number of wild tigers in the world by 2022, the Chinese year of the tiger.
As part of this plan, Cambodia has planned to import six tigers from India and place them in the Srepok Wildlife Sanctuary, a potentially suitable area located in Mondulkiri province. A first step that could partially "restore the tiger population which has disappeared for 15 years," said Neth Pheatra, a spokesperson of the Environment Ministry.
The ministry has been cooperating with the World Wildlife Fund (WWF) and Wildlife Alliance to survey suitable habitats and restore enough prey to make sure that tigers, once imported to the country, survive in their new shelters, he said.
"We are still studying the process and want to ensure that we have set the suitable location for tigers. But the exact date of the import is not sure," Pheaktra said on July 28 during a field trip to Mondulkiri.
In 2019, Mondulkiri Department of Environment Director Keo Sopheak told the Phnom Penh Post that the six tigers would be imported to Cambodia in 2022. But to date, he confirmed that the process is still uncertain, while assuring India had already agreed to export tigers to Cambodia.
"Although the plan has not yet been implemented, we are striving to protect and preserve Cambodia's natural resources and increase prey for tigers," he said.
Due to the rise of snares and illegal wildlife hunting, wild animals have been facing threats, and their number is decreasing, Sopheak said. The essential task is to restore and protect wild animals and explore suitable habitats as tigers are carnivores and need a 100-square-kilometer home range.
"The provincial department is working to increase the number of prey," he said, adding that the population of tigers' prey varies depending on species. While bantengs, peacocks, and elephants are increasing in number, wild pigs are declining, questioning tigers' ability to find enough food in the Cambodian forests.
Heng Kimhong, an environmentalist and head of the advocacy program at the Cambodian Youth Network, said the Environment Ministry should thoroughly study what kind of protection the forests need before importing tigers.
Ensuring that wild animals are safe by removing and discouraging snaring activities is crucial, but tigers should also be placed in a dense forest with no threats of land clearing, he said.
"If we want to restore wild animals while the snaring has yet to be solved, tigers' habitat will be distrubed. However, I want to see the implementation of the [Tiger Action] Plan as soon as possible," he said.
Seng Teak, WWF Cambodia country director, said the number of tigers in India and Nepal has doubled, amounting to 60 percent of the global tiger population, while Cambodia, Laos, and Vietnam have lost signs of wild tigers.
In 2022, the 13 countries being part of the Tx2 program are home to 4,652 tigers. An increase from 3,200 tigers identified in 2020. Bhutan, China, and Russia have seen an increase in tigers-but not as much as Nepal and India-, while the number of tigers in Bangladesh and Thailand remain steady. On the contrary, the number of tigers has decreased in Myanmar, Indonesia, and Malaysia, according to Teak.
Restoring tigers for ecosystems and tourism
Environment Ministry Spokesperson Neth Pheaktra said the tiger is crucial to balance the ecosystem, explaining that it is the reason why Cambodia should restore wild tigers, as they used to be roaming around the rich and dense forests.
"Cambodia is recognized as a country with a rich biodiversity, with more than 5,000 different species identified. So, it is important to establish a plan to restore wild tigers," he said. "Cambodia used to have wild tigers, so we must have them back and maintain balance in the natural areas. As a preserver, I'm saddened by the disappearance of some species of wild animals."
Seng Teak of WWF said tigers are significant as tourist attractions. He took the example of Machali, a famous tiger in India, who died in 2016, who is believed to have generated over $100 million in tourism revenue during her 20 years long lifetime.
If Mondulkiri is able to restore tigers, tourists could be more tempted to visit Cambodia's largest province, in addition to visiting Siem Reap, Seak said.
"Tiger is also used as an indicator to measure the health of a forest," he said. "They have a unique behavior, in which they do not eat all types of wild animals. If there is no tiger, it shows that that ecosystem has a problem."
Zero-Snaring Campaign as an effort
On July 29, the Ministry of Environment launched a Zero-Snaring Campaign in Mondulkiri province, aiming to eliminate all types of snares by raising awareness, engaging a wide range of stakeholders, and highlighting multiple approaches to meet the country's biodiversity goals.
Mondulkiri has become the fourth province to have the campaign launched. This nine-month multi-pronged national campaign, which began on March 3, has covered the provinces of Stung Treng, Preah Vihear and Kratie. Kampong Thom and Ratanakiri will be added in October.
Neth Pheaktra said the campaign is initiated to respond to the existing problems in the country's protected areas, which include illegal trade of wild animals, illegal hunting and snaring. Eliminating snares is helping to protect and preserve the wildlife.
"We have to strive together to reduce the number of snares in the natural protected areas," he said during a press conference of the campaign on July 28. "Withdrawing snares provides safety for wild animals and local citizens who enter the forest to enjoy the natural resources."
He appealed to the public to help spread awareness and stop eating wild animals' meat. "The sooner wild animals will be safe and increasing in number, the sooner tigers are likely to be imported," said Pheaktra.
According to the Ministry of Environment, 234,291 snares were removed between 2010 and 2019 in only five protected areas: Cardamom National Park, the Kulen Prum Tep, Keo Seima, Srepok, and Phnom Prich Wildlife Sanctuaries.
In 2021 alone, 61,611 snares were removed from 72 of Cambodia's protected areas and biodiversity corridors which is an increase on the 10-year average of 40,000 per year.
This is only a small portion of the projected number of snares deployed in Cambodia's woods, but it nevertheless poses a serious threat to animals, especially endangered species, the ministry said.
Related Articles