Improving the Manufacturing Process by Using an Industrial Engineering Perspective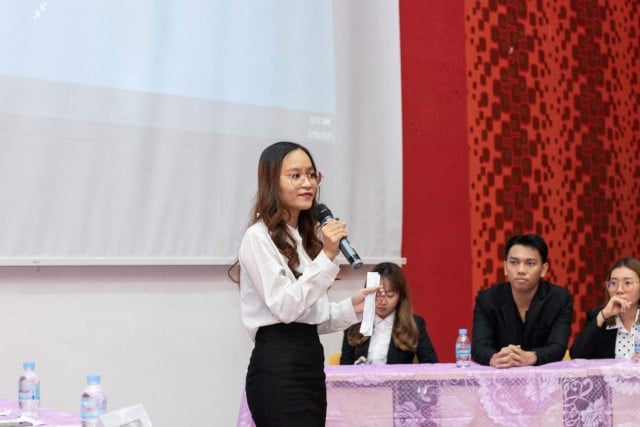 Phirun Somavortey is a senior student in Industrial Engineering (IE) at Paragon International University in Phnom Penh. She shares her perspectives on the importance of IE and how an industrial engineering graduate can play a role in the country's industrial sector.
Teng Yalirozy: First of all, can you briefly tell us what industrial engineering is? And what is its focus?
Phirun Somavortey: Industrial Engineering is the branch of engineering in which basic engineering knowledge is used to support decision-making in the manufacturing process. IE has three main focuses: manufacture-oriented, supply chain systems and system-oriented. IE concentrates on the improvement of the work process in one company or business. Its purpose is to help reduce the original costs of products, increase the effectiveness and quality of products and services, taking into consideration the safety and productivity of workers as well as the environment while following government regulations. Another aspect of IE is reducing excessive production costs, time, raw materials, manpower and energy.
Teng Yalirozy: Do you think this major is crucial for Cambodia in the Industry 4.0 era? In what way?
Phirun Somavortey: I think the IE major is crucial for the industrial sector in Cambodia as many businesses have been emerging, which means there will be intense competition among those businesses. Moreover, as Cambodia is moving toward advanced technology, people in industrial engineering are needed to improve production and operations. Let's assume we are a pen manufacturing company. The production cost of one pen is 500 riels [$0.125]. However, people with IE degrees will possibly reduce the production cost to 300 riels [$0.075], which will make the company more profitable and competitive. Moreover, since the world is running fast, Cambodia has to be running fast as well in order to catch up with the fast-evolving world we live in. Therefore, each company has to ensure smooth production and less costs. If one company does not have an IE person to improve the production process, it can be less competitive compared to other companies.
Teng Yalirozy: Do you think Cambodian students should take on IE? And how confident were you when you chose this major?
Phirun Somavortey: I think Cambodian youths should take on this major because as I have observed, there are not many majors specifically about techniques on how to improve the process of business in Cambodia. Although this major may seem new to some students, it offers plenty of job opportunities if taken seriously. Moreover, I think it is a unique major because we are able to experience many elements and go into many sectors. People in civil engineering, for example, can only go specifically into the construction sector. Unlike other majors, IE allows us to shift from one aspect to another based on what we wish. Moreover, every business has operations, and so efficient operators are needed to ensure the safety and low costs of the operation process. When I looked into IE, I was reluctant at first because it was something completely new to me. But after doing some research and figuring out the opportunities I would be offered, I decided to get into the field.
Teng Yalirozy: You said that people with IE degrees can go into various sectors. Would you give examples of sectors and occupations that IE graduates may consider?
Phirun Somavortey: The IE major is broad, so we can go into various sectors. If there are any operations, people in the IE field can play a role in them. We can work for the government where people in the IE field will help solve problems. We can also be business consultants. The logistics and supply-chain sectors are also sectors in which we can help manage sales in networks. To be more specific, people with IE degrees can be automation system engineers, forecast analysts in the economic and financial sectors, operations analysts, logistics engineers, design engineers, manufacturing site planners and many more. Because IE is a broad major, students can pursue a master's degree in certain specialized fields.


Teng Yalirozy: So far, how does IE shape your perspectives of the world and Cambodia in terms of industrialization?
Phirun Somavortey: Taking IE courses is like taking any other courses. We need to concentrate and do research on various case studies of companies. I have been involved in the manufacturing world, which helps me better grasp the manufacturing sector in Cambodia. By applying an IE's perspective, I have gained advantages. As mentioned previously, using IE's concepts will help to reduce production costs, reduce waste and use resources to their fullest. So, if there are more people graduating with these skills, our country as a whole can also shift from businesses with traditional approaches to modern ones.
Teng Yalirozy: Have you faced challenges while studying IE, especially during the COVID-19 pandemic?
Phirun Somavortey: The challenge that I faced when studying for this major is the major itself. Learning industrial engineering requires knowledge of math, physics, coding, statistics, logical thinking, plus social sciences to analyze, design, predict and evaluate the results and bottlenecks of process and devices. These require a lot of self-learning in order to broaden one's skills. During my first year, I was perplexed as there were many courses to take on. However, in my sophomore year, I started to be familiar with all this, which made me love and devote myself to the major. Attending complex courses is no longer an obstacle for me. One more thing: I am required to do a lot of research on case studies, which I like. But most of the sources are for the master's degree level and it is sometimes difficult to fully grasp each case study. Actually, I had planned to get involved in an exchange program in Thailand for one semester. However, due to the COVID-19 pandemic, the plan was canceled. Right now, I solely study theories online.
Related Articles