In Phnom Penh – Green vs Greenback Check: 0-1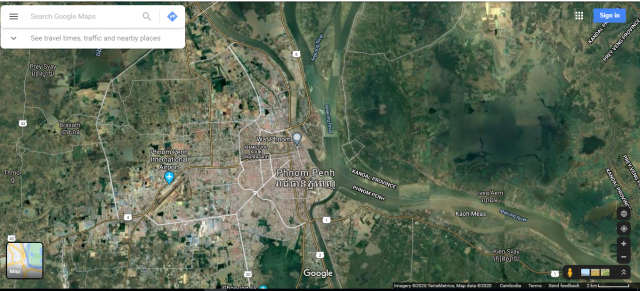 Cambodianess
October 26, 2020 3:56 AM
In 17 years, Phnom Penh seen from a bird's eye view has quite changed. Less lakes mirroring the clouds, less cooling greenery inexorably gobbled by the dullness of constructions.
You may tell me there's no need to look from that high up to realize this. For the earthlings we are, it's obvious every day. To welcome this, since this is a sign of prosperity restored. To also feel sorry about it as we can see that the time when urbanists were contemplating the possibility that Phnom Penh could develop while keeping its garden-city character is definitely over. Until the early 2000s, one could still believe this might happen.
The Phnom Penh archives may still contain files on an urban-planning contest in 2003 at the end of which the first prize had been awarded, and this, in the presence of the city's leading officials and personalities, to a development project for Phnom Penh that was more or less making Boeung Kak lake the lungs of the capital.
Everyone knows the end of the story: no more water features, no more greenery, no more Boeung Kak lake.
In 2020, another idea for a contest comes to mind, that of a contest in which participants would have to answer the following question: How many green spaces located in the center of the capital will have been preserved in 10 years?
Probably the Veal Mean esplanade and the garden in front of the Royal Palace, the park at the Independence Monument and the one in front of the Wat Botum pagoda as well as a few flowerbeds serving as dividers in some streets such as along Street 110 will still be there. As for the rest, one may fear the worst.
Land developers may argue that green spaces are less and less needed in Phnom Penh as many people in the capital choose to live in a borey—that is, a real estate development—with its own private gardens on the outskirts of the city center.
They also may, to make people believe that they are the leading providers of greenery, keep count of golf courses and leisure centers far from the city center and set among Phnom Penh's green spaces whose superficies today are gigantic.
In any case, they have won and this is no longer the time to attempt to convince the concrete builders to leave sufficient expanse of grass, flowers and trees to air and embellish the heart of the country.
King Norodom Sihanouk would say with his reedy voice: "[Y]ou say that I am the king of Cambodia. But this is not true! The king of Cambodia, it's the dollar."
And it is as dollar worshippers that concrete builders will eliminate greenery from the city.






Bird's eye views of Phnom Penh showing its green expanses in 2003, top, and today.
Related Articles