India Makes Flood Relief Donations in Two of Cambodia's Most Affected Provinces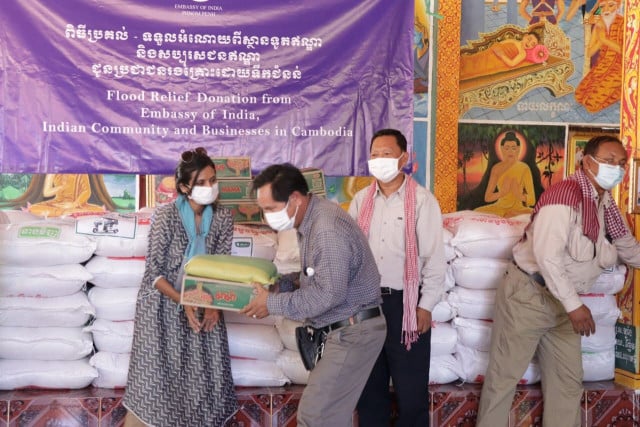 Sao Phal Niseiy
November 29, 2020 10:04 AM
Donations were handed over during ceremonies in Battambang and Kampong Chhnang provinces
PHNOM PENH--The Indian government representatives and the Indian business community on Nov. 28 handed over flood-relief packages to people in Kampong Chhnang and Battambang provinces.

The Embassy of India, the Indian Association Cambodia and Indian businesses in Cambodia donated packages including food items and medicine to people who were recently affected by flash flooding in these two provinces, according to a press statement.

A donation ceremony was held in Kampong Chhnang Province on Nov. 28, presided over by Sao Chivoan, secretary of state at the Ministry of Rural Development, and Indian Ambassador Devyani Khobragade.

"Khobragade and her team handed over 5 tons of rice donated by Bajaj Auto, which is the largest Indian tuk tuk company in Cambodia, and other food items," the statement read.

The Indian ambassador expressed her deep sympathy to villagers who have been affected by the floods last September and October, and also thanked the Indian community, businesses and the Cambodian India Alumni Association for contributing to this effort, according to the statement.

During the ceremony, Chivoan thanked the Indian community and businesses for their donations, and added that the authorities would help organize and coordinate such relief programs in provinces that have been hit by flooding this year, according to the statement.


A similar ceremony was held on Nov. 27 in Sampov Loun District in Battambang Province during which Adarsh Kumar Mishra, second secretary of the Indian Embassy, gave five tons of rice and COVID-19 kits for 1,000 persons to be distributed by the local authorities.

During her visit to Battambang Province, Ambassador Khobragade also met with Provincial Governor Ngoun Ratanak and gave medicines donated by Indian pharmaceutical companies in Cambodia. According to the press statement, she said she hoped the rice, medicine and COVID-19 kits will help people recover from the damages caused by the floods.

"This has been double jeopardy for people as they have suffered from the COVID-19 pandemic and severe floods at the same time," Khobragade said, according to the statement. India and Cambodia share age-old cultural and religious links, so we can genuinely feel the pain of affected Cambodians."

Ratanak thanked the Indian government and people for the support during these difficult times, the statement read. Due to the floods this year in Battambang Province, Ratanak said, "13 communes with more than 70,000 families were the most affected."

According to a report from the National Committee for Disaster Management on Oct. 23, the heavy rains in September and October this year affected 483,140 people of 120,785 families.

More than 110,000 houses and more than 700 schools were damaged while over 230,000 hectares of rice and over 80,000 hectares of mixed crops were flooded, the report read.
Related Articles