India Sorry for Football Team Blunders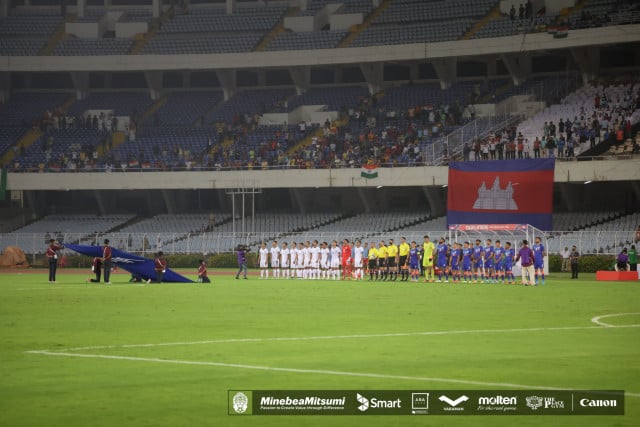 Food, hotel and anthem woes hit Cambodia
PHNOM PENH – Indian football authorities have apologized to Cambodia for the poor quality of the hotel accommodation and food in addition to the bungled playing of the Cambodian national anthem.
The Cambodian team was in Kolkata for the AFC Asian Cup Qualifiers 2023 at VYBK stadium.
However, Cambodian officials complained about the poor food and uncomfortable accommodation.
Things got worse at the stadium on Wednesday when the host announced the Cambodian national anthem but played the Indian anthem instead.
The match was postponed for seven minutes because the organisers could not find the Cambodian anthem. According to SportStart news, a Cambodian official played the anthem on his phone.
The Indian apology came in a letter to the Cambodian Football Federation.
"We would like to apologise to the Federation and the entire team for the hotel-related issues as well as for the issues that happened at the time of playing the Cambodian National Anthem," All India Football Federation (AIFF) assistant general secretary Anil Kamat wrote.
The AIFF said a technical fault caused the Cambodian national anthem problem.
The team would work hard to see that such incidents are not repeated during the remaining matches of the competition and at the team hotel, AIFF's letter said.
In a separate incident, the Asian Football Confederation also expressed regret over the use of an unofficial Cambodian flag.
Hosts India beat Cambodia 2-0 on June 8.
Related Articles