Indian Ambassador: Cambodia will Receive India-Developed Vaccine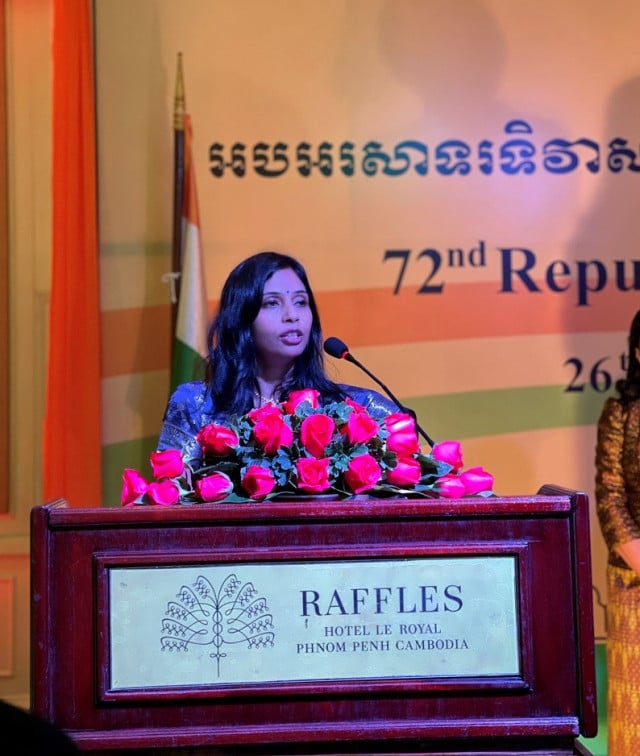 Sao Phal Niseiy
January 27, 2021 9:04 AM
Ambassador Devyani Uttam Khobragade has pledged to personally see to it that Cambodia receive a COVID-19 vaccine developed in India.
PHNOM PENH--Indian Ambassador to Cambodia Devyani Uttam Khobragade on Tuesday (Jan. 27) assured authorities that Cambodia will receive the India-developed COVID-19 vaccine, anticipating that the contribution from India will further bolster bilateral relations.
During an address to commemorate India's 72nd National Day at Raffles Hotel in Phnom Penh, Ambassador Devyani Uttam Khobragade emphasized that as a responsible power, India is also looking to uphold its international responsibilities in providing COVID-19 vaccines to other countries under its Vaccine Maitri Initiative while taking care of its own people in fighting against the pandemic.
"And as we now look at the supply of vaccines, our Honorable Prime Minister [Narendra Modi] has already assured that we will live up fully to our international responsibilities," Khobragade stressed.
She went on to note that so far two Indian vaccines—Covishield produced by India's Serum Institute and Covaxin developed and manufactured by Bharat Biotech—have been approved by the country's drug regulator this month. More importantly, she added, over 1.7 million Indians have been inoculated while the country is expected to vaccinate more than 300 million by mid this year.
Therefore, the ambassador hoped that the vaccine contribution will serve as a catalyst for growth in ties between India and Cambodia in the future.
"As requested by Prime Minister Samdech Hun Sen, I will personally try and I hope I will be able to bring Indian vaccines to Cambodia," Khobragade said, adding that, "Excellencies, let us all work towards this goal together, which will strengthen India-Cambodia relations further."
Cambodia's Prime Minister Hun Sen requested India-developed vaccine during his meeting with Ambassador Khobragade on Jan. 18. The request was also made following Hun Sen's announcement of the acceptance of 1 million doses of China​'s Sinopharm COVID-19 vaccine.








For India, Khobragade stressed that the ties with Cambodia have been vital not only as a neighbor, but also as extended family and an important partner under the Act East Policy.
"Our age-old relationship has forged a strong bond between our two peoples and two cultures, and the friendship between us has emerged even stronger," she said.
At the same event, Deputy Prime Minister and Minister of Foreign Affairs Prak Sokhonn highlighted the long-standing relations and cultural linkages between India and Cambodia while expressing the gratitude to the South Asian nation for its role and assistance given to Cambodia over the past decades.
As the second most populous country on earth and the fifth largest economy, ranked by nominal GDP, Sokhonn said, its assistance has been critical in Cambodia's social and economic development, indicating that the cooperation has been expanded covering wide-ranging fields from political to security to people-to-people connectivity.
In the meantime, Sokhonn also praised the Indian government for its key role globally in fighting the pandemic through the provision of medical supplies and India's vaccine development. He also pointed to India's financial donations to the ASEAN COVID-19 response.
"I would like to take this opportunity to congratulate India on the successful development of and manufacturing of two COVID-19 vaccines which has been rolled out on 16 Jan," said Sokhonn.
"That means we express to you Madam ambassador my firm conviction to further grow the breadth and height of the cordial relations and closed cooperation between India and Cambodia indeed for the mutual interests of our two nations and people," he concluded.
India and Cambodia formally established diplomatic relations in 1952. Indian Prime Minister Jawaharlal Nehru visited Cambodia in 1954, the country having declared its independence the year before.



Both countries enjoyed friendly relations until 1975 when ties were cut during the Khmer Rouge regime. Relations resumed in 1981 with India becoming the first country to recognize the Phnom Penh government of the People's Republic of Kampuchea led by Heng Samrin.
Related Articles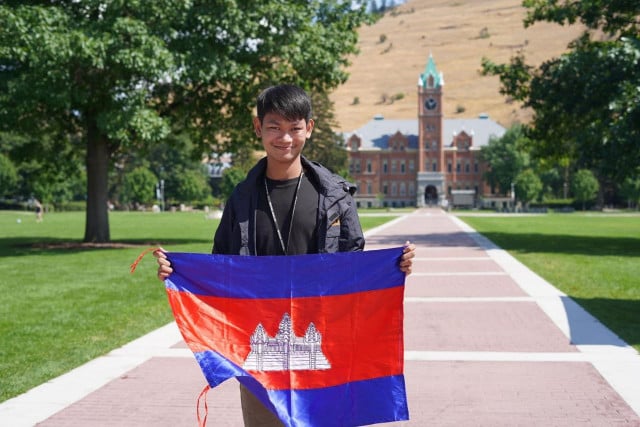 September 9, 2022 3:37 PM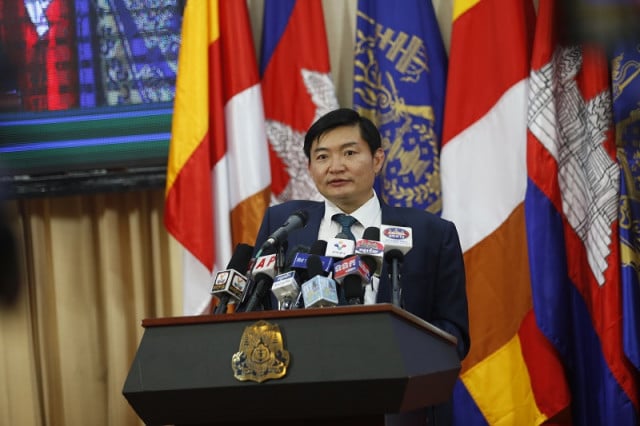 February 27, 2020 7:51 AM