Indonesia Tells PM Hun Manet of 500 Online Scam Cases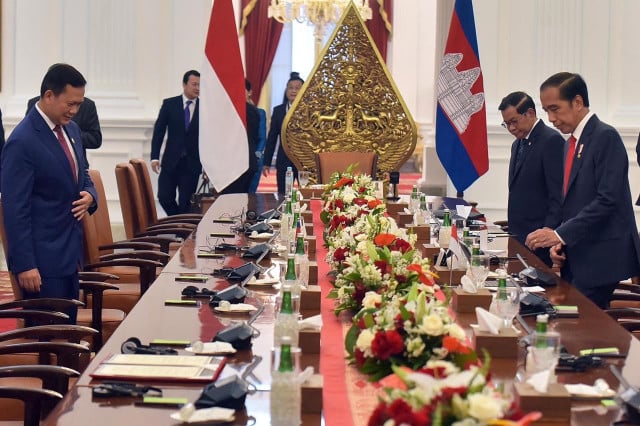 September 6, 2023 5:51 PM
PHNOM PENH– Prime Minister Hun Manet has come under pressure from Indonesia's leader to take action on online scams.
President Joko Widodo (Jokowi) told Manet that from January to July this year, 777 cases had been handled in Cambodia, with 515 of them related to online scams.
The pair met on Sept. 4 at the presidential palace in Jakarta, where Manet is attending the ASEAN Summit.
The Indonesian Foreign Ministry said they discussed the importance of strengthening cooperation in protecting Indonesian citizens, especially those who had become victims of online scams or cyber fraud.
The Cambodian side did not mention the issue specifically in its account of the meeting, saying that they discussed fighting terrorism and transnational crime and spoke about the economy and business.
The scamming center issue arose after Cambodia denounced a United Nations human trafficking report which claimed that about 100,000 people were being forced to work in online scam centers in the country.
The UN Human Rights Office report says the workers are among hundreds of thousands of people forced by criminal gangs into online criminality in Southeast Asia - from romance-investment scams and crypto fraud to illegal gambling.
Vice president of the National Committee for Combating Human Trafficking Chou Bun Eng said an expert team would question the UN.
"We want to see the evidence of why they dare to say that 100,000 people were trapped in the scam labor force and by human trafficking," she said.
The report said online scam centres were or had been reported in Phnom Penh, Kandal, Pursat, Koh Kong, Bavet, Preah Sihanouk, Oddar Meanchey, Svay Rieng, including in the Dara Sakor and Henge Thmorda special economic zones.
Separately, the Associated Press news agency reported on July 25 that Indonesian police were investigating human organ trafficking allegations involving a Cambodian hospital.
It said police and immigration officers were accused of helping traffickers send 122 Indonesians to sell their kidneys. Twelve people had been arrested.
Cambodian police are reported to be investigating the allegations.
Related Articles