Indonesian Ambassador hopes for Cambodia and Indonesia to Cooperate in the Defense Industry Sector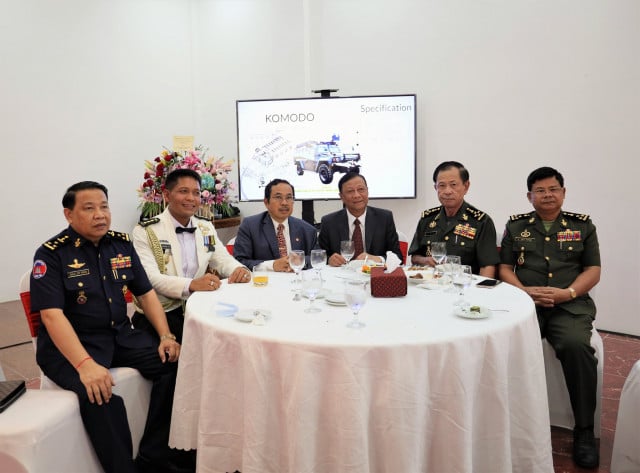 Thien Phearin
October 8, 2020 11:46 AM
This could involve Cambodia's military officials visiting Indonesia's defense-industry plants, he says
PHNOM PENH--Indonesian Ambassador Sudirman Haseng on Oct. 5 called for a higher level of defense and military cooperation between Cambodia and Indonesia, especially in the defense industry sector.
"I would like to express my hope that, while the two countries' military and defense cooperation is in good shape and strong, our two countries will pursue a higher level of cooperation [that will be]…beneficial to both our countries, and…contribute more to the economic benefit of both countries," Ambassador Sudirman said during the commemoration ceremony of the 75th Anniversary of the Indonesian National Armed Forces.
Held under the theme of "Synergy for the Country," the event was attended by high-ranking Cambodian military officials including General Neang Phat, permanent secretary of state at the Ministry of National Defense, and General Chhin Chanpor, deputy commander-in-chief of the Royal Cambodian Armed Forces (RCAF).
Speaking of increasing cooperation in the defense sector, Surdiman suggested that Cambodia and Indonesia cooperate in the military industry sector.
"Indonesia has an industry that produces aircrafts for civil as well military use, a shipbuilding industry that produces ships and submarines, a military industry that produces military equipment such as tanks, mine detectors, guns as well as fabric for military uniforms in which Cambodia would like to cooperate," Sudirman said.
He went on to say that he hopes the two countries will carry out a program of high-level military officials' visits so that Indonesia can arrange tours of facilities in Indonesia for Cambodian military officials to check the quality of military products.
"I do hope that Indonesia-Cambodia bilateral cooperation especially in the field of defense and military will continue to flourish, strengthen and be mutually beneficial in the years to come," Sudirman concluded.
Cambodia and Indonesia established diplomatic relations in 1959 and, over the last decades, the ties between the two countries have expanded particularly in terms of defense and economic cooperation.
Cooperation in the field of defense and security was strengthened in the early 1990s when Indonesia dispatched Garuda XII Peace-Keeping Operation to Cambodia, which ran from 1991 to 1993 to support the peace process in the country.
Since then, Indonesia has supported Cambodia in the defense sector through military exchange visits and training for personnel from the RCAF, the 911 Special Forces Command and the Prime Minister Body Guard Unit.
Cambodia and Indonesia signed in 2016 a memorandum of understanding to strengthen ties in all sectors of defense.
Related Articles