Influenza Outbreak in Preah Vihear Prison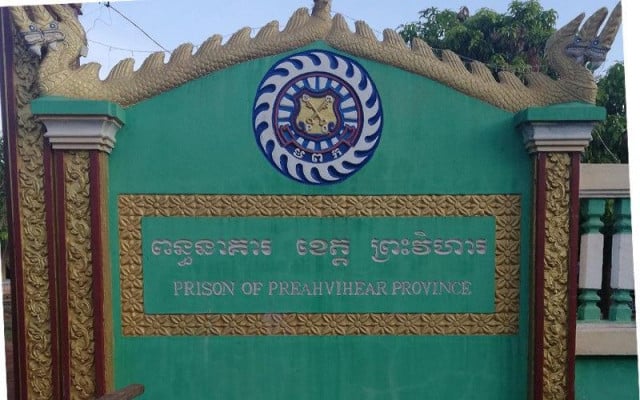 A suspected outbreak of COVID-19 has been confirmed as influenza according to the Ministry of Health, following a number of inmates at Preah Vihear Provincial Prison.

PHNOM PENH--The Ministry of Health on Sept. 1 confirmed that a suspected outbreak discovered at Preah Vihear Provincial Prison on Aug. 31 is in fact influenza and not Coronavirus Disease 2019 (COVID-19). The ministry's announcement came after an emergency medical team was dispatched to the prison where a number of prisoners displayed flu-like symptoms.

After initially suspecting that the inmates might have been infected with COVID-19, the medical team separated 147 inmates for testing and monitoring. A further 11 inmates were separated as they developed flu-like symptoms, while 326 prisoners remained healthy and were separated from those suspected of having contracted the virus.

However, today the Health Ministry said that is has obtained the results of the laboratory tests after samples were sent to the National Institute of Public Health Research. According to the ministry, the results confirmed that all inmates tested negative for COVID-19 on Sept. 1, but are infected with influenza A—a highly contagious disease.

As such the ministry said it is conducting health education among the prison so that inmates know what to do and what to avoid. Meanwhile doctors from the Preah Vihear Provincial Health Department will monitor the inmates who are sick.

With some of the most overcrowded prisons in the world, Cambodia has repeatedly been warned to address the health and hygiene issues in their correctional facilities—particularly in relation to COVID-19. The unsanitary nature and poor quality health services available in most Cambodian prisons—coupled with rampant overcrowding—has seen experts dub them a potential breeding ground for the virus.

The Health Ministry also urged citizens to continue abiding by measures aimed at preventing the transmission of COVID-19 and influenza, both of which are highly contagious and potentially deadly.

The total number of COVID-19 cases in Cambodia now stands at 274 as of Sept. 1, with just eight patients still receiving treatment and 266 having made full recoveries.
Related Articles