Information Minister: Foreign Press Can Witness the Freedom Cambodian People Enjoy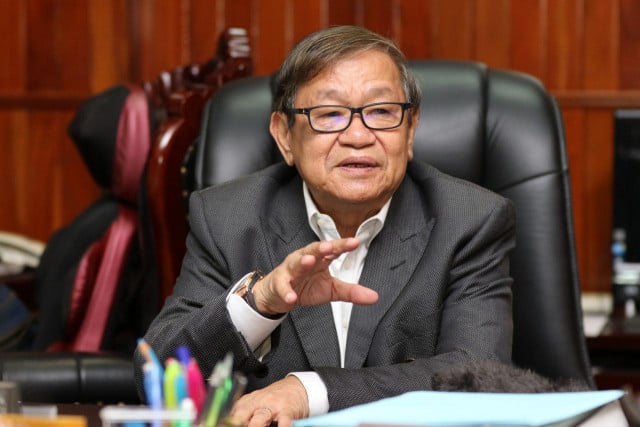 Leang Delux
June 6, 2019 10:19 AM
Cambodia will host the 16th Asia Media Summit next week, which will be attended by some 500 journalists, publishers, broadcasters, and researchers from over 40 countries across Asia. In the lead up to the June 10-14 event, Thmeythmey online-news reporter Leang Delux sat down for an interview with Information Minister Khieu Kanharith. Below are some highlights of the interview.
Leang Delux: Cambodia will play host to this summit, which will be held in Siem Reap province from June 10 to 14. What is this event all about and its significance for Cambodia?
Khieu Kanharith: This event is being sponsored by the Asia-Pacific Institute for Broadcasting Development. It is an event that will bring together journalists, media policy makers, radio and television station owners, and even researchers to discuss the challenges the media are facing at present time. Those challenges are, for example, fake news, the role of social media and, most importantly, the ability of the traditional news media to compete against social media for revenues. This issue is affecting not just news media in Cambodia but all news media across the world when companies are flocking to advertise their products on social media platforms.
Leang Delux: How can this summit benefit news media in Cambodia?
Khieu Kanharith: First of all, it will allow the local journalists and our information officials to gain a deeper understanding of the media's global trends and, secondly, it will offer an opportunity to exchange experiences with each other.
Leang Delux: 'Digital journalism and journalism market development' are the main themes of this summit. In your view, how prepared are Cambodian journalists for these two areas?
Khieu Kanharith: Our journalism has arrived at a crossroads. Several news organizations still survive but barely, and we don't want to see them in that kind of state forever. So it is critical to learn experiences from others at this summit.
Leang Delux: To what extent are Cambodian news establishments ready to make adjustment to the digital revolution? You will be speaking on this topic. What are some of the ideas that you will share in your speech?
Khieu Kanharith: We are constantly chasing after the market trends. With the new trends come new demands to which we need to make adjustments in order to survive. For instance, if the trends are turning left, we cannot pull them back to the right. However, we should identify interests in the new trends and work toward addressing them accordingly, shouldn't we?
Leang Delux: To what extent, in your opinion, are Cambodian journalists able to catch up with digital technology?
Khieu Kanharith: In terms of tools, we are still lagging significantly. Just take television as an example, the current resolution being used is 4K. But if this technology advances further, I think some of our local TVs won't be able to afford new equipment to fit the needs of the new technological requirements.
Leang Delux: The technological advancement has compelled journalists to adjust to ways for finding and receiving information. They are forced to write shorter stories. Some go even further to sensationalize headlines and photos in order to gain readers. As a former journalist yourself, how concerned are you about the decline of news quality in Cambodia?
Khieu Kanharith: I am concerned. Knowledge, know-how and critical thinking work hand in hand, but the latter is being lost, particularly among young people. With time passing at a breakneck speed, some people are rushing to catch up with it and to acquire knowledge using shortcuts. They tend to think that the headline is enough for them to learn everything in an article. This being said, I still believe that journalists must constantly improve their quality [of work]. Comprehensive analytical articles must continue to be available at least for a certain group of readers who need them. Casual readers may want to read just the headlines or brief stories, but TV and radio [stations] still command influence in the field with the ability to offer in-depth analysis through both stories and speakers. This requires journalists to be multitasking – in print, radio, and television – in order to retain the audience. If you want to survive, do multitasking.
Leang Delux: In terms of image, what does Cambodia expect to get from hosting this event?
Khieu Kanharith: First, we want to show them that Cambodia is different in reality from what is being said or talked about. Second, we want them to see with their own eyes the kind of freedom being enjoyed by the Cambodian people. [Prime Minister] Hun Sen's government has been constantly labeled as being dictatorial. This summit is the chance for the participants to see with their own eyes, to go anywhere, and to interview whoever they want. They will understand. Third, the summit is an opportunity for our information officials and local journalists to learn experiences from large forum like this, about the way foreign journalists think, and gain deeper understanding about the evolution of the media in the world. The media summit in Siem Read will be like a learning opportunity for us.
Related Articles