Innovation Needed to Capitalize on Trade Agreement with China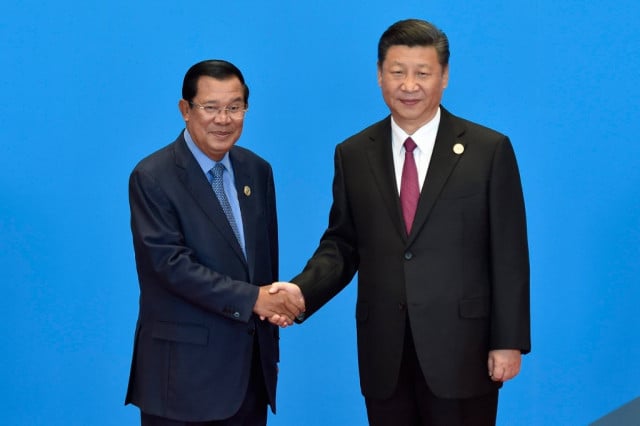 Sao Phal Niseiy
June 11, 2020 3:58 AM
As Cambodia comes ever closer to finalizing a free trade agreement with China, much more is needed to diversify the economy.

PHNOM PENH--The China-Cambodia Free Trade Agreement (FTA), which is expected to be concluded by the end of this year, has the potential to boost Cambodia's manufacturing and innovation, according to analysts.

Cambodia and China on Tuesday (June 9) settled the remaining issues in the agreement text related to market access on goods and services, according to a statement from the Ministry of Commerce.

The latest round of negotiations was led by Cambodian Secretary of State for Commerce Sok Sopheak and Chinese Deputy Director of Commerce Ministry Yang Zhengwei.

As working groups already agreed on the text in principle, the agreement needs to be endorsed by both countries' leaders before it can be signed by the end of this year.

"Based on the agreement text, if the leaders of both countries approve, Cambodia's exports will increase by 20 percent on average per year. In the meantime, Cambodia also is expected to see a surge in foreign direct investment which will create incomes and jobs for Cambodians in the near future," the statement read.

China and Cambodia began the first round of negotiations on free trade agreement in January 2019, signaling Prime Minister Hun Sen remains committed to moving Cambodia further into China's orbit, both economically and politically.

Economic cooperation between the two countries has increased exponentially in recent years, with China becoming by far the kingdom's largest trading partner—in 2018, bilateral trade was worth $6.6 billion.

As this FTA with China will allow Cambodia to enhanced access to the market of 1.4 billion people, Chheng Kimlong, director of Center for Governance Innovation and Democracy of the Asian Vision Institute observes that it will bring more benefits for Cambodians and support the country economic growth.

"I think this agreement will respond to China's domestic demands in agricultural produces, and at the same time it also contributes to Cambodia's economic development—particularly in terms of expanding job markets and increase state revenue," said Kimlong in an interview with Cambodianess.

He noted that since Cambodia is highly dependent on agricultural and agro-industrial production, it is important that from now on the country may have to attach more importance to enhancing agricultural production such as fruits and vegetable, as well as processing products for export.

Innovation in Manufacturing

In addition to expanding Cambodia's market for exports, Kimlong continued that the agreement could also bring about more innovation through transferred technology and knowledge.

"The free trade pact, along with the flow of goods and services, will also pave way for a technological transfer between China and Cambodia, particularly innovation promotion, as well as commercial goods exchange, which all serve a purpose in bolstering ties," Kimlong explained.

Furthermore, Kimlong said that the agreement could also allow the country to scale up manufacturing capacity as it receives more investments from China.

"As investments from both Chinese private companies and state-owned enterprises increase, I believe manufacturing production will also grow to supply the Chinese market and beyond. For example, it includes some sort of electronic devices and other materials which do not require advanced technology to produce," he said.

When asked if there were any unforeseen negative impacts of signing a free trade agreement with China, Kimlong noted that Cambodia still has a limited capacity to produce variety of products to export, which he anticipates may have some negative effects on agricultural and agro-industrial goods
"Normally, there is a negative consequence if we happen to import any particular products that our country is capable of producing. For example, we produce rice and China does too. If we import it, this is an issue," Kimlong said.

Bolstering Productivity and Public-Private Partnership

To reap the full benefits from the free trade agreement which is soon to be signed, Kimlong suggested that the country should bolster productivity and foster public and private cooperation to expand production in the manufacturing sector.

"It is imperative to focus on productivity expansion in our workforce in term of technical skill, technological knowledge, as well as science and engineering skills," Kimlong said.

This, he said, will allow Cambodia to be more appealing to foreign investors and, at the same time, boost domestic investment.

Furthermore, public and private partnership, he argued, will also have a critical role in buttressing this process, through which they should create collaboration to bring in more investments in any sectors that are driven by technology.

"From now on, Cambodia can no longer rely on these few sectors like we currently do. It requires medium-term goals and long-term planning in order to achieve this," Kimlong continued, stressing that the technological knowledge, which is to be acquired by people, doesn't need to be very cutting-edge, but should be certainly within normal people's reach.

With more investment poured into technology, he suggested, Cambodia will be able produce higher manufacturing products such as electronic devices, spare parts for vehicles and other mechanical equipment.

Over the past decade, Cambodia's economy has heavily relied upon garment industry—which accounts for 78 percent of its merchandise exports and 20 percent of its annual growth, but in recent years the country's leadership has shown its willingness to diversify beyond garment sector to sustain its growth.
Related Articles