Inspection Shows Wildlife Sanctuary Deforestation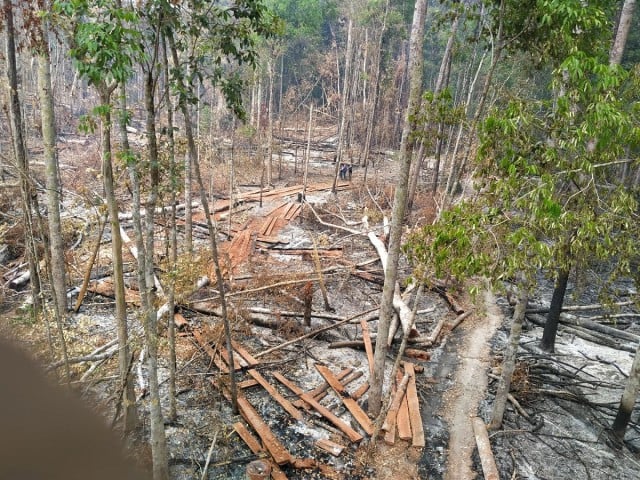 Phoung Vantha and Lay Sopheavatey
April 2, 2021 11:48 AM
Forest crimes suspected but ministry won't comment
PHNOM PENH--The Cambodian Youth Network (CYN) says it found 100 cases of deforestation in just three days in Prey Preah Roka, and believes that logging crimes continue due to the negligence of the authorities.
Heng Kimhong, program manager for research and advocacy at CYN, said his team patrolled 55km of forest between March 19 and 21, finding more than 100 cases of deforestation involving many kinds of tree at Preah Rokar Wildlife Sanctuary in Preah Vihear province.
Kimhong said he was saddened to see these forest crimes increasing but organizations, associations and forest defenders were barred from patrolling the area.
"Why did the rangers there not know about that the deforestation?" he said and asked whether corruption was involved in allowing such deforestation.
Ministry of Environment spokesperson Neth Pheaktra said the ministry does not need to comment on any third-party report with which it does not cooperate.
Kimhong said that he asked the ministry to consider stopping restrictions on freedoms and openness for local communities, forest activists, associations, civil society organizations and the public to participate in patrolling, protecting, conserving, and maintaining forests.
Letting the public protect forests to keep them alive was in line with the rights and duties of citizens, as stated in Article 35 of the Constitution and Article 29 of the Natural protected areas, which ensures the duty of everyone to protect natural resources, he said.
Prey Preah Roka Wildlife Sanctuary, established in 2016, covers 90,000 hectares in Tbeng Meanchey, Chheb, and Choam Ksan districts.
Related Articles