Interior Minister Sar Kheng Orders an Investigation into a Baby's Death in Jail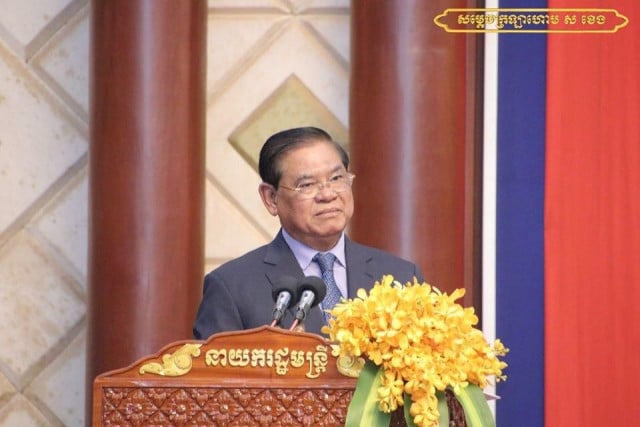 Phoung Vantha
February 20, 2020 1:14 PM
The mother had been refused treatment and medicine for her baby
PHNOM PENH-- Interior Minister Sar Kheng on Thursday ordered all relevant parties to investigate the death of a 5-month-old baby who was living with her mother in Prey Sar Prison in Phnom Penh.
"I ordered the General Department to investigate further to find out if this was [a case of] death, malnutrition or [due to] other causes about which we must find it out in order to clarify this for the public," he said during the closing session of the Ministry of Interior's annual meeting.
On Feb 18, the Cambodian League for the Promotion and Defense of Human Rights (Licadho) called upon the government to launch a full investigation to establish how come a 5-month-old baby girl was left to die in prison. The baby, who was incarcerated with her mother in Correctional Center 2, passed away on Jan. 26. Her mother was 8-month pregnant when she was sent to pre-trial detention in mid-2019, according to Licadho.
The 5-month-old girl was reported as having died of pneumonia and severe malnutrition, according to the autopsy. But her condition had truly started to deteriorate on Jan. 18 when she sustained an injury that fractured her thighbone.
In its statement, Licadho noted that the child was then taken to the National Children's Hospital, but was not treated, even after the mother had asked for more medicine for her baby, a request that was denied.
According to Licadho, there currently are 103 children and 43 pregnant women incarcerated in the 18 prisons that the NGO is allowed to monitor across Cambodia. This, the statement read, has nearly doubled since Jan. 1, 2017, and while Correctional Center 2 is designed to hold women and children, it is the only one of its kind in the country. Its official capacity is 350 inmates, but it now holds 1,850.
"We hope that all pregnant women and mothers in prison with their children, currently serving pre-trial detention, be granted bail or have their trials completed before International Women's Day on 8 March 2020," the Licadho statement concluded.
Related Articles
December 20, 2020 8:21 AM