International Trade and Logistics: Studying for the Future of Cambodia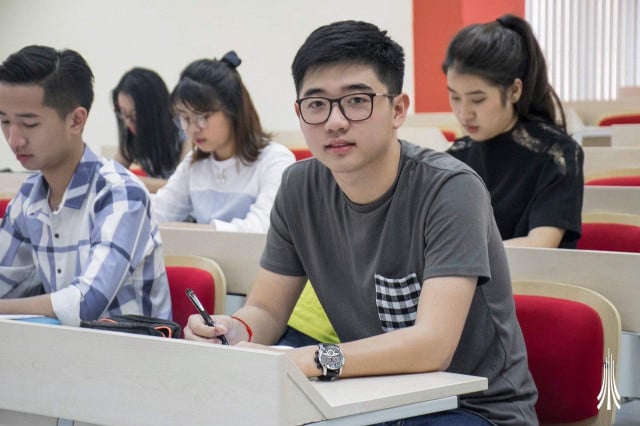 Heat Vanna
August 19, 2020 10:35 AM
For 21-year-old Un Meassambath, the value of his degree in International Trade and Logistics is already paying off. Even though he is yet to graduate from Paragon International University, the senior student has already co-founded his own digital platform WeChoul—allowing users to rent vehicles in tourism hotspots around the country. Meassambath sat down with Cambodianess to discuss entrepreneurism and the potential value of logistics in the country's development.

Heat Vanna: International Trade and Logistics is a fairly new major in the context of Cambodia and I believe there is still some confusion as to its value, so talk us through what you study and why you chose this degree.

Un Meassambath: International Trade and Logistics (ITL) is completely a new major in Paragon International University, as well as in Cambodia. This major covers the journey through the whole supply chain, from generating raw materials right through to final goods or products reaching end customers. Basically, students will learn and understand deeply how goods legally move from one place to other destinations, the scope of responsibilities of key players in this process, including shipping line companies, logistics companies, freight forwarder companies and governments. These key players are connected to ensure that the goods will be delivered efficiently by being on time, spending less, and experiencing less lead-time with a single purpose of satisfying their customers.

When I was choosing my university degree, I didn't know what ITL really was, but I knew I wanted to study business and that I wanted to work internationally, so ITL seemed closely linked to this. It was when I met a very inspirational instructor in my second year that I realized exactly what I want for life, so no matter how hard or stressful the course has been, I've enjoyed it and remain enthusiastic to learn more every day.

Heat Vanna: So how does the course match up to your expectations when you started?

Un Meassambath: Basically, this major provides a study curriculum that includes business courses such as entrepreneurism, management, finance, business analytics, marketing, project management, and many others. More importantly, ITL students will focus on global supply chain management, logistics modeling, and planning—maritime transpiration management and project stimulation etc. which all aligns with what I visualized in the beginning.

Heat Vanna:Are there any difficulties in undertaking a new course and how do you cope with them?

Un Meassambath: The biggest challenge I face is the availability of data. It is rare and hard to find for further understanding whenever I work on a research paper, for example, in my first semester of my thrid year, I was assigned to work on a research paper under the topic of "Cost Optimization of Container Terminals of Sihanoukville Autonomous Port" so my team and I suffered when seeking the data since it is limited in Cambodia.

To deal with this, I tried to approach my instructor as well as my network of people involved in these areas, particular with government officials or institutions. As a result, my instructor helped my team to get data we wanted.

Heat Vanna: What value do you feel ITL offers Cambodia's development and what sort of employment prospects do you see for yourself after you graduate?

Un Meassambath: Personally, I would say yes that ITL is a new and important major for the next generation of fresh high school graduates because I believe that it offers potential skills needed for a career in international trade, which has increased rapidly in the last few years.

Essentially, Cambodia subtantially lacks human resources in this field as I could see that 90 percent of those who are currently working in the logistics field are from other backgrounds, meaning they have been able to complete work based on their experiences in the particular scope of work. In addition to this, Cambodia's economic growth is dependent on trading; therefore, ITL graduates will have a lot of opportunities in the future for their careers with highly satisfactory benefits.

In terms of employment, I believe ITL will generate plenty of work for Cambodians in the future because human resources of this field in Cambodia remains hugely limited, despite the important role it plays in economic development.

Heat Vanna: So how do you maximize the benefits of this degree and what advice can you offer?

Un Meassambath: For young people interested in international trade or logistics, I recommend that they really try to develop their mathematic knowledge in terms of statistics, which will be used a lot in logistics works. Furthermore, they should be more disciplined with higher responsibilities, being detail-oriented and logic-based because every move of logistics works needs to be logical and efficient.

Based on my experience, I am constantly doing research and learn every single day about logistics, and its process so I can expand the scale of my understanding and knowledge by watching YouTube, reviewing lessons, reading various academic papers related to logistics, practicing exercise and doing a few online courses. Additionally, I am trying to build a good connection with higher lever workers in a few logistics companies so that I can ask for clarification in a particular unclear parts when it comes to learning.

Heat Vanna: While you've been studying at Paragon you've actually started your own business too, can you tell us how that came about?

Un Meassambath: Originally, my team and I were joining a business competition with a full passion of learning and exploring things in business field, unfortunately, we all failed in the competition. Once the competition ended, we met up and started researching and validating the business ideas that we had come up with. Simultaneously, one of my team had faced a problem of being overcharged for a motorbike rental in Siem Reap and he talked about how the rental issue took up a lot of his holiday.

He raised his problem within the team and we all agreed and started working on this from that moment onward. Currently, we are operating our platform in two different provinces: Siem Reap and Kampot.

Again, In regard to WeChoul, it is a digital platform that provides a variety of transportation solutions in different tourist locations. Our services includes motobikes, bicycles, electric bikes (E-bike), quad bikes, and all types of taxis and buses.

Heat Vanna: Have you been struggling to run this business while studying?

Un Meassambath: Yes, of course I had. My team and I had experienced many challenges doing this business—in the early stages, we have a problem with explaining WeChoul to our partners whose technological knowledges are still limited. Moreover, we lacked of funds to do market research and validation as well as business expansion.

Nevertheless, another problem was the team capabilities in managing and planning the business; plus, some technical skills. On top that, we faced decision-making issues—since there are a lot of members in the team, it took time to make a final decision for each particular step of our business' movement. Plus, the ongoing pandemic also has created a huge impact on our online bussiness.
Related Articles