Internship Students Learn Israeli Farm Skills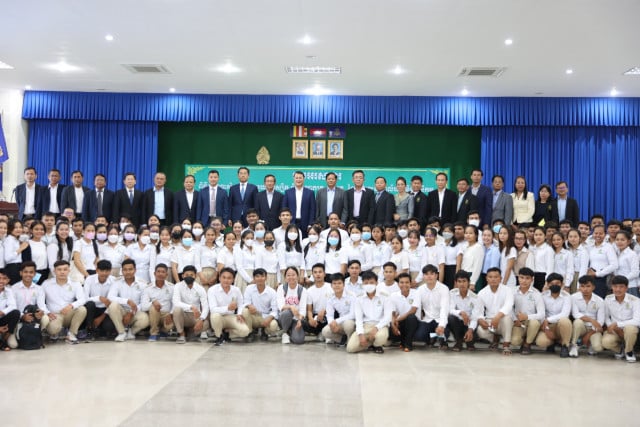 PHNOM PENH – Cambodia sent 250 students, of whom 30 were women, to Israel for 11-month internships last year for training in the theory and practice of agriculture.
The internships were the latest of more than 1,700 students who have taken part in Israel's Agrostudies Agriculture Capacity Building program since 2008.
The program, which was built with the support and oversight from the Israeli Ministry of Foreign Affairs and Ministry of Agriculture, focuses on capacity building through practical and professional knowledge transfer in the field of agriculture
Pin Thira, the cooperation office director at the Royal University of Agriculture, said the number of students sent to Israel in 2022 was greater than in 2021. The selected students were from Year 3 with good health and acceptable English.
The students were from the Royal University of Agriculture, the University of Heng Samrin Thbongkhmum, the Kampong Cham National School of Agriculture, Svay Rieng University and the University of Management and Economics based in Battambang province.
Thira hoped that students will continue choosing to do internships in Israel if the country keeps selecting Cambodian applicants.
A Royal University of Agriculture survey showed that students who went to Israel under this program received practical knowledge to work in agriculture and run their own farms.
Yuon Neang, a fresh graduate from​​ the Royal University of Agriculture, chose to study veterinary medicine during the internship which ran from 2019 to 2021. The duration was extended due to the COVID-19 breakout.
His studies there focused on modern agriculture which included planting and picking vegetables and fruit as well as animal farming and breeding.
His study was related to animal husbandry and involved farming cows for milk. Practices included pumping milk, treating cows, biosecurity, as well as feeding and looking after calves.
He said the internship in the foreign country taught him to be patient and hard-working during the job, to be able to work in teams, to understand more about modern agriculture, and preventing the spread of diseases or problems among animals raised for meat.
Neang learned both practical knowledge and interpersonal skills to benefit his development and current work in Cambodia as a veterinarian.
His goal is to have his own farm to supply healthy meat productively for domestic consumers.
Khon Brospeou, a student from the Svay Rieng University and a current intern, said the internship played an important role for practical knowledge related to his major, additional to what he learned in Cambodia. It benefited both his profession and English language proficiency.
For the 11 months, Brospeou said 11 subjects were taught in classes, including vegetables plantation, plants protection, agriculture economics and entrepreneurship, international productivity standard and sustainability, fruits plantation, post-harvest technical work, modern irrigation system organization, nutrition, productivity and agriculture promotion.
In a week, there was only one day for theory in class. Five days were spent working directly on the farm. Expenses on accommodation and fees were borne by interns.
"I work around 8 to 9 hours per day for five days a week. I also get paid $8 per hour. I get the knowledge and have quite a sum of money left after the payments. I only said this because it would be a message for the next generation to consider," said Brospeou.
His aim for the internship — through the university's partnership — is to learn about modern agricuture for healthy lives for Cambodian people.
He wants also to spread awareness of the importance of nutrition, contribute to economic growth with agricultural development, and improving the country's agricultural capacity.
Brospeou says Cambodia has rich soil, advantageous weather and water resources, but there are shortcomings in technical work, marketing and irrigation.
With the knowledge from the internship, Brospeou wants to contribute to solving these issues.
Related Articles
February 23, 2020 9:36 AM