Interview: China-proposed BRI generates tremendous opportunities for Cambodia, other participating countries: Cambodian expert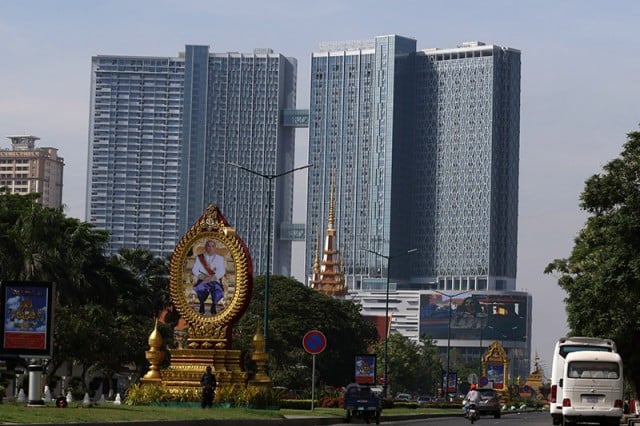 ThmeyThmey
April 23, 2019 10:08 AM
PHNOM PENH, April 20 (Xinhua) -- China-proposed Belt and Road Initiative (BRI) has created tremendous opportunities for Cambodia and other participating countries, a Cambodian expert said.
Speaking in an interview with Xinhua ahead of the second Belt and Road Forum for International Cooperation to be held in Beijing, Kin Phea, director-general of the International Relations Institute of the Royal Academy of Cambodia, said that Cambodia is supportive of BRI because the country believes that economic opportunities generated from the initiative are tremendous.
"Every country stands to benefit from the BRI, of course at different levels, depending on their participation," he said, adding that institutional capacity, leadership, and human capital will define which country gain more.
"Opportunities are there, and it now depends on how quick and smart Cambodia can do to leverage bilateral trust with China and to strengthen its governance and leadership to grasp the opportunities," the expert said.
Kin Phea, who has been attracted by the BRI since 2014, said the BRI is an excellent opportunity for Cambodia and China to raise their bilateral relationship to a new level.
He said under the Cambodia-China BRI cooperation, China has invested in many large projects in Cambodia including hydropower plants, road and bridge projects, special economic zones, a Phnom Penh-Sihanoukville expressway, and a new Siem Reap international airport.
"These are examples of BRI impact on Cambodian economic development," he said. "Through our research, we found that the BRI has very positive impact on Cambodian economic growth," he added.
Kin Phea said this initiative not only brings enormous advantages to all participating countries, but also becomes a long-term plan to promote connectivity and cooperation in all fields such as infrastructure, economy, investment and finance, and to strengthen people-to-people bonds.
He said that for Cambodia, infrastructure development and connectivity are the country's core interest in joining BRI.
"We have high expectation that China will help Cambodia to further develop its infrastructure such as roads, railways, airports, seaports, hydropower plants, and special economic zones," he said. "Doing so will reduce logistics cost in the kingdom, enhance economic competitiveness, and diversify sources of growth," he added.
BRI also strengthens the economic performance of the Cambodian government, Kin Phea said, adding that Cambodia needs capital of about 600 million U.S. dollars a year to invest in infrastructure development.
FUTURE COOPERATION UNDER BRI
Cambodia is in the heart of mainland Southeast Asia and sits on the path of the maritime silk route in BRI, Kin Phea said, adding that Cambodia and China can forge stronger relationship if both sides understand each other's strengths and needs.
China's help to build hard infrastructure will improve Cambodia's logistics and to reduce production and transportation costs for the next stage of development, he said.
"Human capital development and technology transfer are equally important areas of cooperation for Cambodia to realize its inclusive development goals," he said.
The expert said China is now the top investor in Cambodia and among the top trading partners, and deepening trade through further removing tariffs would stimulate growth, especially for Cambodia.
BRI BELONGS TO EVERYONE
"As we know, BRI is a new global force of peace, stability, prosperity, and harmony," he said. "I think the BRI is the only engine for future world economic growth," he added.
He said the BRI also created a wave against re-emerging de-globalization sentiment that is caused by protectionism.
The expert said BRI, though proposed by China, is now a kind of global common goods.
"It belongs to everyone, particularly the countries that are engaged in concretizing the initiative," he said. "We are all the stakeholders and owners of BRI. Intra-regional and inter-regional connectivity will be improved under BRI," he said.
Kin Phea said political trust, mutual learning, mutual respect, and mutual interests are the foundation of cooperation under the framework of BRI.
"No country is willing to impose ideas or policies on other countries," he said. "Every country shares an equal say in collectively designing and implementing BRI's projects," he said.
The expert said collective leadership for a shared opportunity is the philosophy of BRI, and sustainable and inclusive development is the vision of BRI.
"It has become a catalyst of change in the regional and global affairs," he added.
Source: Xinhua
Related Articles