Investing into Cambodia's Future: The Need for Clean Energy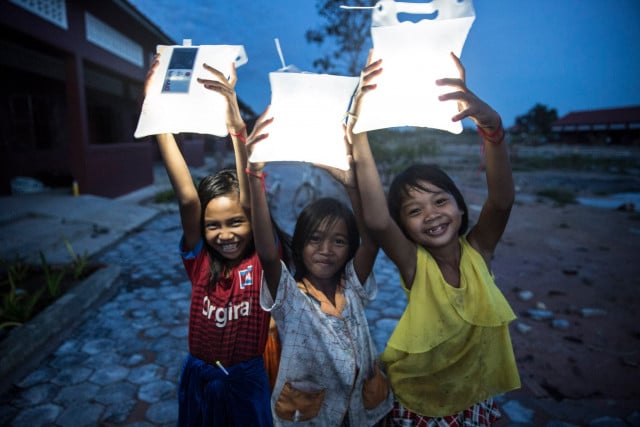 Sao Phal Niseiy
June 26, 2019 12:03 PM
This month, the Ministry of Mines and Energy gave the green light to tycoon Kith Meng's Royal Group to conduct a feasibility study on upgrading its coal-fired power plant in Preah Sihanouk Province to increase electricity production from 450 to 700 megawatts.
The ministry said the study should take up to 20 months to complete and be sent to the government for consideration and approval. The proposal is expected to be approved as the country is desperately in the need of electricity.
There currently are two coal power plants in Preah Sinahouk Province—one built by Cambodian Energy Limited and the second by the Cambodia International Investment Development Group—with a total capacity of 655 megawatts. And a third coal power plant is under construction and expected to be completed next year.
The country's urgent need for electricity
According to the Cambodia Basic Energy Plan prepared by the Ministry of Mines and Energy and the Economic Research Institute for ASEAN and East Asia, the electricity demand in Cambodia should increase by about 9 percent each year between 2015 and 2040. The government's goal is to achieve 100 percent electrification nationwide by 2020 as was stated in its National Strategic Development Plan 2014-2018.
As the country attempts to diversify its energy sources, the electricity shortage that occurred this year during the dry season has become a compelling reason for the government to push harder for more coal-fired power plants, fuel-combusting generators as well as hydroelectric dams.
Prime Minister Hun Sen pledged earlier this month that such severe electricity shortage would not happen again. This was good news as the country is undergoing rapid development. But in order to keep this promise, it is a crystal clear that Cambodia will not turn away from polluting coal to fuel power plants anytime soon.
I agree that coal is affordable and a flexible solution for a developing country such as Cambodia. However, it is not something on which Cambodia can rely as a long-term solution to energy shortage: Although inexpensive, I should point out that coal-fired power plants are considered the most polluting way of producing electricity, which will end up putting not only the environment but also people's health at risk.
The human cost of coal-fired power plants
According to a health study report by World Health Organization, coal-fired power plants usually release hazardous pollutants such as carbon dioxide (CO2), nitrogen oxides (NOx) and sulphur oxides (SOx) that are the source of air pollution. For instance, SOx can also cause acid rain, which is harmful to ecosystems, and reacts with other compounds in the atmosphere to form fine particles that reduce visibility, creating what is literally known as haze.
Being exposed to these pollutants can damage people's cardiovascular, respiratory and nervous systems, increasing the risk of lung cancer, stroke, heart disease, chronic respiratory diseases and lethal respiratory infections. Each year, coal is believed to be responsible for more than 800,000 premature deaths and for millions of people being struck down by serious and minor illnesses throughout the world.
In Cambodia, there were, according to World Data, around 6,000 deaths attributed to outdoor air pollution in 2016. And it is worth mentioning that some people living in Preah Sihanouk Province have reportedly been suffering from the pollution due to the coal-fueled power plants in the province. The Phnom Penh Post newspaper reported last week that as many as 42 families in the province's Stung Hav district have complained about a coal-fueled power plant as their health is getting affected.
Despite all the data that highlight the danger of using coal, some people may not agree with what I stressed earlier because they believe that there is no development with zero environmental cost and that people's health at times may get compromised. And they will argue that a third-world country like Cambodia should be given free rein to select sources of energy of its choice in order to sustain its robust economic growth. It is true that Cambodia should be offered more choices. So why not choosing the better options when we still have the choice?
Focusing on people
When I mention a better choice, I would like to see some people stop viewing our country as a poor nation that can only consider a cheap solution and has no alternative plan whatsoever when it comes to producing electricity amid rapid growth. What should be the primary focus of a responsible government is to find a balance between economic development and people's wellbeing. Ethically, a government must keep people's health a top priority while making decisions and choosing the better options that won't make its people pay the huge price at the end of the day.
This is just an issue of policy choice. Remember that ordinary people like myself and other Cambodians have to bear all the possible consequences today or in the future when a wrong decision is made. I bring this up because I am deeply concerned that we and the younger generation will get choked by the toxic fumes one day. There could come a time when, while we would not die because of electricity shortage, we would due to bad energy policy planning.
Planning for the short and long term
On the other hand, it is high time to put the focus on a way forward in which our country can undertake to achieve sustainable and efficient electricity production. When it comes to diversifying sources of energy production, Cambodia has so far put clean energy as a secondary issue, still lacking the political will and commitment to ensure the transition to clean energy and effectively deal with electricity shortage while maintaining green growth.
Instead of supporting large private companies to construct polluting coal-power plants, the government should initiate policies to encourage and facilitate private investments in renewable energy such as solar, biomass and wind since Cambodia is seen as having the potential to use those approaches.
Seeking more partners, and especially organizations willing and capable of providing the financial resources to support a renewable energy program, and also providing incentives and support to attract private investment in the field should be the government's priority. Of course, this may initially require an information campaign to make the public and especially investors and businesses aware of the benefits of clean energy technology.
I remain optimistic that we can change course as investments in clean power such as solar energy so far has increased. Last month, Cambodia received a financial package from development partners such as the Asian Development Bank to build a "solar power park" which can produce up to 100 megawatts. I hope more investments will pour in and that the government will take the lead in clean energy projects.
But more work needs to be done among all of us to ask the government for more action on renewable energy. And of course, this requires that you to speak up about the sort of future you want to see unfold for your country.
Related Articles