Is the Dog-Meat Trade Growing in Cambodia?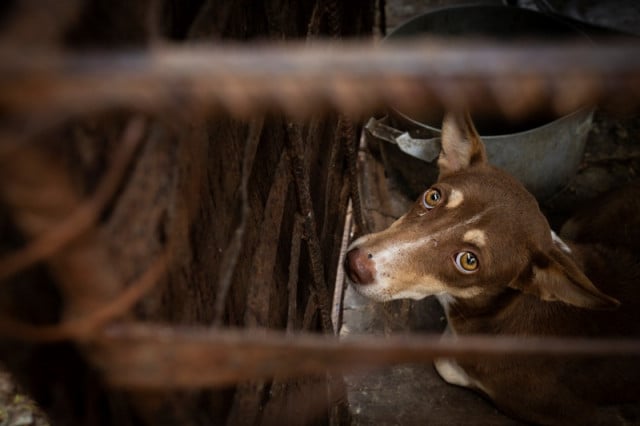 Jazmyn Himel
November 21, 2019 2:22 AM
PHNOM PENH— According to Martina Mayr of Animal Rescue Cambodia (ARC), "throughout Southeast Asia, reports indicate that dog meat consumption is decreasing as a whole".

However, "In Cambodia, it tends to be the opposite," she said. A 2019 report by Four Paws International and ARC revealed that an estimated 2,900 dogs per month, that is, 34,800 per year, are served at restaurants in Siem Reap City alone.
The report identified "specialized minivans equipped with cages" as being used to "export at least 3,750 dogs per month out of Siem Reap and across the country."
"We suspect approximately 2-to-3 million dogs are slaughtered for their meat annually," said Mayr who is the founder and director of ARC. "While it is difficult to conclusively prove that the consumption of dog meat is increasing, sentiment among both consumers and sellers in Cambodia indicates that it is."
Pet ownership of dogs is growing in popularity in Southeast Asia, which leads to those pet owners "frustration with lack of laws to protect their animals," Mayr said, as is becoming the case in Vietnam and Indonesia.
In Cambodia, dog meat is provided by traders who, Mayr said, "travel more than 100 kilometers per day, collecting, stealing, and trading dogs." In some villages, they will even trade cookware for unwanted dogs.
And those traders have a growing market to supply as the number of restaurants serving dog meat is increasing in large cities. In Phnom Penh for instance, more than 100 restaurants serve dog meat, said Mayr.
And yet, she added, "dog meat consumption is not a tradition deeply embedded into the nation's culture."
But according to Dr. Katherine Polak, veterinarian and head of Four Paws Southeast Asia, "this is not a debate or culture or custom.
"The trading and sale of dogs in Cambodia is strictly a profit-driven one," she said.
Live dogs can fetch $2-to-$3 per kilogram. "Larger dog meat suppliers and slaughterhouse owners can earn between $750 to $1,000 per month," she said.
"In many places in Cambodia, we see physicians prescribing dog meat to their patients, particularly to cure scars, after giving birth, and so on…So this is helping to increase consumption, particularly among women," she said.
Among men, the increase in dog meat consumption might be due to its low price, Polak said. With a price of only 5,000 riel ($1.25), this makes dog-meat dishes she said, "increasingly popular as a bar snack for men to eat while drinking with their friends after work."
While it is hard to prove that dog-meat consumption is increasing in Cambodia, Polak said, "[T]he Cambodian government is yet to take any action to stop the increasing consumption of dogs."
Related Articles
September 7, 2022 8:12 PM
September 27, 2022 11:56 AM