Israeli PM Mobilises Army, Police Reserves after Deadly Attacks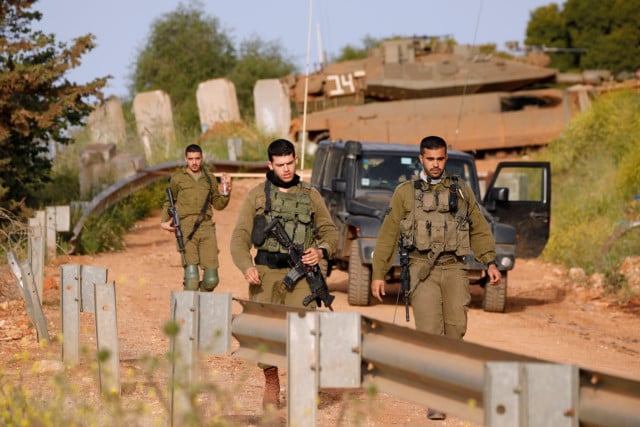 Tel Aviv, Israel -- Israeli Prime Minister Benjamin Netanyahu mobilised police and army reserves Friday after separate attacks killed three people, including an Italian tourist, in the West Bank and Tel Aviv, in the latest escalation of deadly violence.
Despite appeals for restraint, violence has surged since Israeli police clashed with Palestinians Wednesday inside Jerusalem's Al-Aqsa mosque, with Israel bombarding both Gaza and Lebanon following rocket fire by Palestinian militants.
The latest flare-up in tensions comes during what is both the Jewish Passover and the Muslim holy month of Ramadan.
Earlier on Friday, two British-Israeli sisters aged 16 and 20 were killed, and their mother seriously wounded in a shooting attack in the occupied West Bank.
Israel's army said it had launched a manhunt for the perpetrators.
Later, in central Tel Aviv, one man was killed and seven people aged between 17 and 74 wounded when a car rammed into people walking on a cycling path along the seafront, and flipped over, Israeli rescue services and police said.
"All the victims were tourists," the Magen David Adom emergency service said.
Italian Prime Minister Giorgia Meloni identified the deceased as 36-year-old Alessandro Parini.
The Ichilov hospital in Tel Aviv said it had received three injured Britons and one wounded Italian.
A police spokesman told AFP that "the terrorist was neutralised, it was a terror attack against civilians, a car ramming attack".
Shortly afterwards, Israeli Prime Minister Benjamin Netanyahu "instructed the Israel Police to mobilise all reserve border police units and has directed the IDF to mobilise additional forces", his office said.
Oded Revivi, mayor of the illegal settlement of Efrat, confirmed that the dead in the West Bank shooting were Israeli sisters aged 16 and 20, and that the wounded woman was their mother.
A British diplomat later confirmed that the two also held UK passports, while calling for "all parties... to de-escalate tensions".
- Cross-border strikes -
Friday's attacks came after Israel launched air strikes and an artillery bombardment before dawn in response to rocket fire from the Gaza Strip and Lebanon.
Israel "struck targets, including terror infrastructures, belonging to the Hamas terrorist organisation in southern Lebanon", the army said.
AFP journalists heard explosions in Lebanon's Tyre region as well as in Gaza, where Israeli air raids began before midnight.
The Lebanese army said it had found and dismantled a multiple rocket launcher in an olive grove in the Marjayoun area near the border, still loaded with six primed rockets.
The Israeli army said it had hit two tunnels and "two weapon manufacturing sites" belonging to Hamas in Gaza "as a response to the security violations of Hamas".
It said air defences had intercepted 25 rockets on Thursday, while five had hit Israeli territory.
Israel "will not allow the Hamas terrorist organisation to operate from within Lebanon", it added.
On Friday, Hezbollah deputy chief Naim Qassem said "the threats and intimidation of the Zionist leaders will lead nowhere".
Army spokesman Lieutenant Colonel Richard Hecht had blamed Palestinian militants for the rocket fire from Lebanon.
The United Nations Interim Force in Lebanon (UNIFIL), which patrols the area along the border, urged restraint, adding: "Both sides have said they do not want a war."
On Friday evening, the army said it had shot down a drone that had entered Israel's airspace from Lebanon.
The Palestinian health ministry had earlier reported "partial damage" to the Al-Dorra children's hospital in Gaza City. Hecht said Israel was investigating.
Hamas condemned the "appalling Israeli aggression" and said it held Israel "fully responsible for the consequences".
- Mosque raid -
A Qatari official on Friday said Doha was mediating between Israel and the Palestinians.
Doha -- which has previously mediated between Israel and Hamas -- "is working to deescalate the situation on all sides, with the latest contact being noon today," the official said, speaking on condition of anonymity.
Israeli riot police stormed the prayer hall of Al-Aqsa mosque in a pre-dawn Wednesday raid aiming to dislodge "law-breaking youths and masked agitators" they said had barricaded themselves inside.
The violence sparked an exchange of rockets and air strikes with militants in Gaza.
UN chief Antonio Guterres has urged "all actors to exercise maximum restraint".
The United States on Friday voiced solidarity with Israel after the Tel Aviv attack, saying that "the targeting of innocent civilians of any nationality is unconscionable", according to State Department spokesman Vedant Patel.
France vowed "unwavering" support for "Israel's security and Lebanon's stability and sovereignty", while an Iranian foreign ministry spokesperson "strongly condemned the attacks of the aggressor Zionist regime" and Russia called for a "lasting ceasefire".
Hamas and Islamic Jihad told Egypt, a longstanding mediator between Israel and the Palestinians, that rocket fire would continue "if Israel continues its aggressions and air strikes but, if these aggressions stop, they will cease fire," Palestinian sources said.
© Agence France-Presse
Related Articles