IT Studies Gaining in Popularity Among the Youth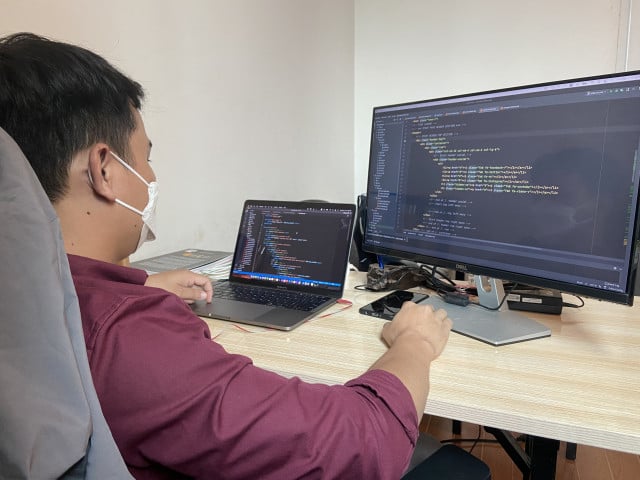 But the level of graduated students does not always meet the market requirements, expert says
PHNOM PENH – Information Technology (IT) in Cambodia is becoming more and more popular, with an increasing number of students enrolling in this high education degree every year.
Chor Chandara, deputy head of the Computer Science Department and professor of Information Technology at the Royal University of Phnom Penh (RUPP), stated that the number of students enrolling in the IT major is greater than it used to be ten years ago. For the last five years, the Department of Computer Science has received nearly 2,000 students every year, which represents a 50 percent increase from 2017.
"Although this scientific major is difficult, there are more and more students getting interested because they will have a chance to get a good job in Cambodia, or internationally if they work hard," he said.
In 2018, Chandara started to let some IT students compete against other ASEAN nations during transnational students' competitions, as a way to stimulate them and confront other nationalities. An idea that turned out to be a winning bet, as some of his students won a regional competition in 2021, against five other countries.
Chandara, however, remains concerned about students who do not get committed enough and don't spend enough time practicing to successfully pass this major.
Som Puthea, 22, is a four-year student majoring in IT at RUPP. She believes that IT skills, such as networking, designing or programming, are crucial for Cambodia, especially because these professions provide many job opportunities for IT graduates.
As society evolves, technology is needed to facilitate daily life, but it can cause difficulty for people if they do not learn and understand the way technology works, she said.
"Pursuing this IT major is time-consuming, as it requires a lot of practice," Puthea said. "Unfortunately, I don't have enough time because I'm attending classes for another major at a different university. So, I understand the theory better than practice," explains the 22-year-old student, adding that she is also studying banking at the Banking Technical Study Center. After graduating, she wants to work as a programmer in the banking sector.
High-tech expert Chy Sophat, who is also the organizer of the technology-focused event BarCamp Cambodia, said that technology in Cambodia has gained momentum, especially in the last three years when the country had to deal with the COVID-19 outbreak, forcing education and many other sectors to go online.
However, Cambodia still lacks IT professionals in the digital sector. Although skills have globally increased, the newly graduated students don't yet meet the current market demands, Sophat said.
"Limited resources prevent the sector from fully expanding. Once graduated, some IT students are not yet competent enough to meet the qualifications required by some companies," said the expert.
He emphasized that technology evolves rapidly but the courses offered at university are often too short and provide more theory than practice. Therefore, students need to study more on their own and be eager to learn outside universities.
Sophat said that there is a high market demand for technology-related majors, with specializations in programming, coding, web designing, technical assistance or digital marketing.
According to the Education Congress in the Academic Year 2019-2020, 67 percent of bachelor's degree graduates had studied social sciences, of whom Around 37 percent business-related skills, 8 percent law, 10 percent foreign languages, 2 percent tourism, and 10 percent other social sciences and arts. Thirty-three percent of the graduates that year studied STEAM (Science, Technology, Engineering, Arts and Mathematics), including 6 percent studying basic science, 10 percent in information technology, 8 percent studying engineering, 4 percent in agriculture, and 5 percent in health.
Related Articles