Jailed Union Leader Faces Surgery for Eye Injury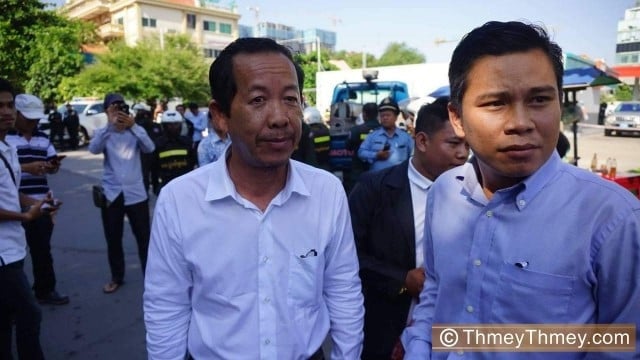 September 9, 2021 12:26 PM
Prison urged to investigate Rong Chhun's treatment
PHNOM PENH--Union leader Rong Chhun is to have surgery for his right eye which was injured when unknown assailants attacked a protest demanding improved benefits for workers.
Rong Chhun has been detained since his arrest in July last year on unrelated incitement charges and his vision is getting more blurred.
He was sentenced to two years in prison on August 18 after he led a team to inspect land on the border with Vietnam July 2020. He was detained after he had issued a statement alleging that irregularities during the negotiations between the two countries had caused Cambodians living along the border to lose land.
He was formally charged with incitement to cause serious disorder to social security.
Ouk Chhayavy, president of the Cambodian Independent Teachers Association, says authorities should investigate Rong Chhun's case so that he can get proper treatment outside prison.
General Department of Prisons spokesperson Nuth Savana said the prison unit took Rong Chhun to have his eyes check at the Khmer-Soviet Friendship Hospital on September 4.
He could not say any more about Rong Chhun's eye condition. Rong Chhun was waiting for an appointment with the doctor for treatment.
"They have to operate on his eye but the appointment date is yet to be set," Nuth Savana said.
Chhayavy, who is close to Rong Chhun, said authorities should investigate Rong Chhun's case so that he can get proper treatment outside the prison because an eye problem is important.
"Rong Chhun told me he got his eyes checked already at Khmer-Soviet Friendship Hospital, but the doctor suggested he gets his eyes checked more often because it is getting more serious," she said.
Chhayavy, said Rong Chhun's problem was caused by being hit on the eye by an unknown attacker, leading to a blood clot, while taking part in demands for laborers. The date of the attack is uncertain.
Since then, Rong Chhun has been getting his eyes checked regularly. However, he has missed many appointments since he was arrested, causing him to need surgery.
Additional reporting by Meng Seavmey
Related Articles