Japan Envoy Hails Football CEO Posting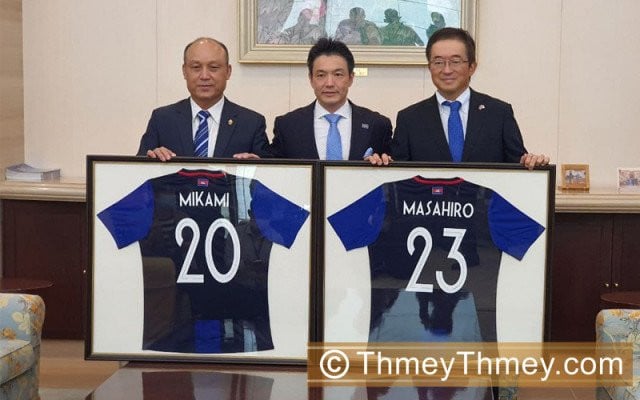 New chief brings international marketing experience
PHNOM PENH--Japanese Ambassador to Cambodia Mikami Masahiro hopes the role of Satoshi Saito, newly appointed chief executive officer of the Cambodia Football League, will contribute to the development of Cambodian football as well as ties between the two countries.
"We hope that the strengthening of the professional league under Mr Saito's leadership will continue to grow the Cambodian football community or society and it leads to good results in international competition and that his appointment will help leverage the relationship between Japan and Cambodia by the power of football," Masahiro said on the Japanese Embassy's Facebook page.
Saito was deputy marketing director at the Japan Football Association and was football project leader for the Tokyo 2020 Olympics.
The ambassador met Sao Sokha, president of the Football Federation of Cambodia and Saito on Nov. 17 during an introductory visit. The trio agreed to seek the support of Japanese investors in Cambodia to cooperate in the development of football and to further raise the standard of Cambodian football.
Sokha said that as a football leader, he needs to contact all circles to mobilize human resources and funds for the development of football, especially the preparation for the 2023 SEA Games as well as the next event.
Currently, Cambodian football has close relations with the Japanese side, in which there are technical coaches for the development of football and youth in the school community. In 2014, Keisuke Honda was appointed national team general manager.
"It's not that we favor Japan or that we do not receive aid from other countries, but at the moment Japan helps us the most, so we thank Japan," Sokha said.
Related Articles