Japan PM Says No Decision on Fukushima Water Release Date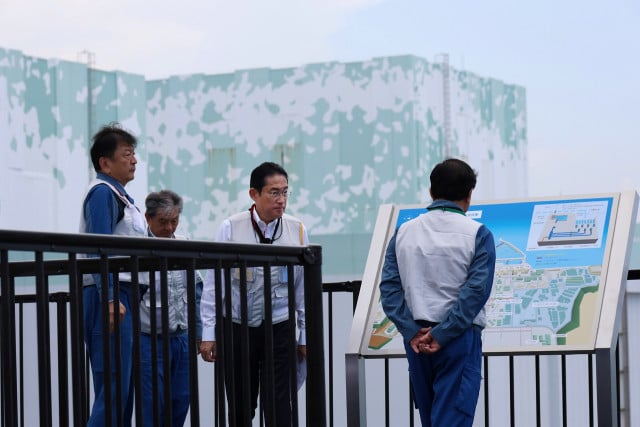 Tomioka, Japan -- Japanese premier Fumio Kishida said Sunday his government has not yet decided when to begin releasing treated water from the crippled Fukushima nuclear plant into the Pacific Ocean.
Media reports suggest that the discharge of some of the 1.34 million tonnes of water, which Japan insists is safe, could begin as soon as this month, despite anger from China and concern elsewhere.
Speaking at the Fukushima site, wrecked by a tsunami in 2011 in one of the world's worst atomic accidents, Kishida said he would first meet fishing industry officials to discuss their concerns.
"I must refrain from commenting on a concrete timing of the release into the ocean at this point, as the decision has to be made after the government as a whole looks at measures to do with safety and reputational damage (for the fishing industry)," Kishida told reporters.
"I hope to meet with fishermen, led by chairman (Masanobu) Sakamoto of Japan's fisheries cooperative federation, as early as tomorrow," the prime minister said.
Many Japanese fishermen are against the release, fearing that it will undo years of efforts to improve the industry's image in the wake of the 2011 catastrophe.
The water, equivalent to more than 500 Olympic swimming pools, has accumulated in the past 12 years from water used to cool three melted-down reactors combined with groundwater and rain.
Plant operator TEPCO says that dangerous radioactive elements have been filtered out and that the water it plans to release is safe, a view backed by the UN atomic agency.
Japan has spent months trying to win over public opinion at home and abroad, with everything from livestreaming fish living in the treated water to efforts to counter online disinformation.
Public concern about the plan remains high in South Korea but its government said its review of the plan found it in line with international standards.
But China, which has frosty relations with Japan, has banned food imports from 10 Japanese prefectures and has imposed stringent radiation tests on food from the rest of the country.
The release of the treated water -- a maximum of 500,000 litres per day, TEPCO says -- is just one stage of the clean-up.
The far more dangerous task remains of removing radioactive debris and highly dangerous nuclear fuel from the three reactors that went into meltdown.
© Agence France-Presse
Related Articles