Japanese Aid to Upgrade Schools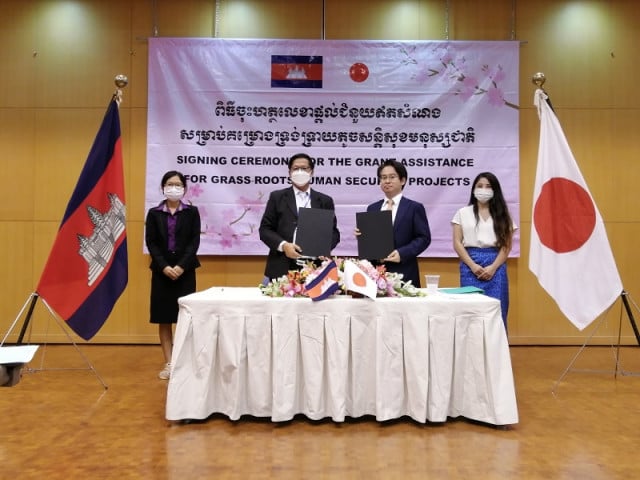 PHNOM PENH – Japan has provided $170,000 for school buildings in Battambang and Koh Kong provinces.
A signing ceremony for the KUSANONE grant aid was held on Dec. 1. Taninai Ichitomo, Deputy Chief of Mission of the Japanese Embassy, signed the contracts with representatives of the organizations.
The assistance covers the construction of two rooms at Bandos Komar Pre-School in Battambang province and a five-room school building at Tany Lower Secondary School in Koh Kong province.
"We believe that these grants will enhance the quality of life for people in each project area," Ichitomo said.
The Battambang project is worth $80,000 and is expected to benefit 100 students and five teachers through the improvement in the learning environment and the quality of education.
The building will be equipped with pre-school furniture, a toilet and a hand-washing station.
A fence and gate, playground materials and a water tank will be installed, and the land will be partly paved. At present, students aged three to five learn in overcrowded classrooms, which could have a negative impact on classroom management and learning motivation.
The $92,000 project at Tany Lower Secondary School aims to create a safer and more comfortable learning environment and is expected to benefit 72 students and seven teachers.
The building will be equipped with furniture and a toilet. Currently, students at the school have difficulties studying because the old wooden building and furniture are in poor condition.
KUSANONE Projects started in Cambodia in 1991 to support Cambodia's reconstruction and development at the grassroots level. The assistance aims to protect those who are vulnerable due to factors such as poverty and/or misfortunes that directly threaten their lives, livelihood, and dignity, as well as to promote self-reliance of local communities.
Since 1991, Japan has provided over $65 million for mainly local authorities and non-governmental organizations to implement 665 KUSANONE projects throughout Cambodia.
Related Articles