Joint Military Exercise between China and Cambodia to Go Ahead Despite COVID-19 Fears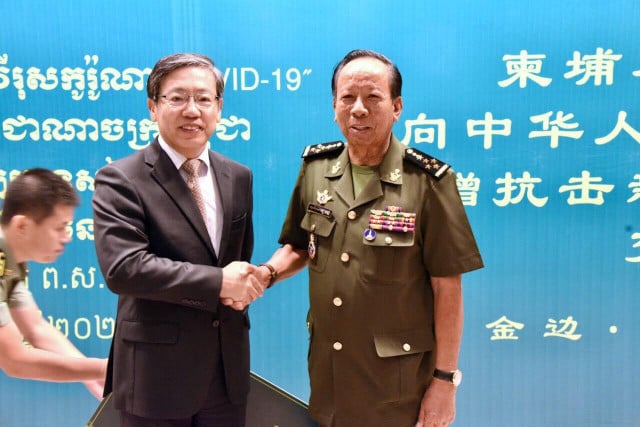 Phoung Vantha
March 3, 2020 10:04 AM
As a range of high-profile events have been cancelled over growing fears surrounding the deadly COVID-19 outbreak, but the Cambodia-China military drill is not one of them.
PHNOM PENH--Cambodia and China have announced that they will not cancel the joint military exercise known as "Golden Dragon" this year, despite the ongoing outbreak of the COVID-19 virus that is thought to have originated in China.
Both countries on Monday said that they have no plans to cancel or postpone the exercise, claiming they do not fear COVID-19, according to the Ministry of Information. The virus has so far killed over 3,000 people with most of those fatalities recorded in China.
The 4th-largest Cambodia-China military drill, reportedly based on the theme of "Together against terrorism and for humanitarian operations" is scheduled to take place from March 14 to April 1 at Trapaing Veng village, Trapaing Raing commune, Chumkiri district, Kampot province, where a military training site is located.
Some 3,000 soldiers, including 265 Chinese from the People's Liberation Army, will participate in this joint drill where they will practice using different types of weapons and military equipment such as armored vehicles, tanks, artillery, mortar guns and helicopters.
The Ministry of Information quoted General Tea Banh, the Cambodian defense minister, as having said that that cooperation between the two countries will be stronger and more active.
The Ministry of National Defense on Monday provided a total of 300,000 masks and 1,500 items of protective clothing to China government to help fight the COVID-19 outbreak.
Cambodia still stands with its Chinese friends to fight against the coronavirus virus under the spirit of strong support and cooperation, Chines embassy Facebook page quoted Tea Banh, Minister for National Defence of Cambodia, as saying during a ceremony at the Chinese Embassy in Phnom Penh.
This is in strong contrast to the US President Donald Trump's decision to postpone the scheduled US-ASEAN summit that was expected to go ahead in Las Vegas, Nevada on March 14. Trump reportedly cancelled the event amid concerns regarding the outbreak, which many experts now believe is reaching the level of a pandemic.
Similarly, on Feb. 27, the US announced it would be postponing its annual military drills with South Korea due to coronavirus fears. Almost 5,000 cases of the virus have been confirmed in South Korea as of March 3 and on the same day in the US, the death toll from the virus rose to six.


Related Articles