Kaavan Finally Finds a New Home in Cambodia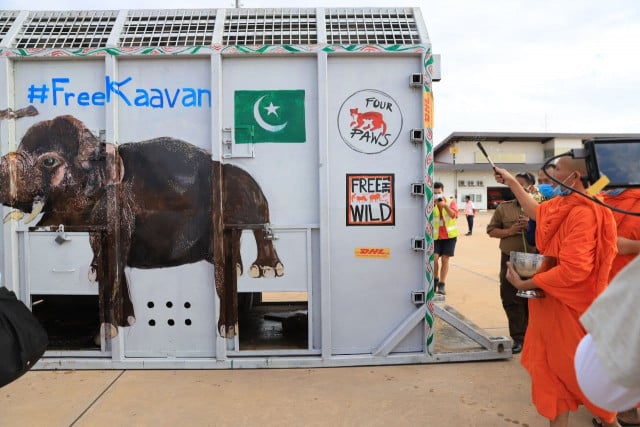 Sao Phal Niseiy
November 30, 2020 9:10 AM
Touching down in Siem Reap International Airport, the 35-year-old Asian elephant is en route to his new home with American pop singer Cher keeping him company for the journey.
PHNOM PENH--The mistreated Pakistani elephant Kaavan on Monday (Nov. 30) arrived in Siem Reap Province—a new home where he will live for much of his life.
From the Siem Reap International Airport, Neth Pheaktra, spokesperson for the Ministry of Environment, said that Cambodia is proud to welcome the world loneliest elephant, Kaavan.
"Cambodia is proud and astounded to be welcoming Kaavan, and being globally known as the loneliest elephant, he now is no longer lonely because he will live in our protected natural forest at the Cambodia Wildlife Sanctuary," Pheaktra told reporters, adding that the 35-year-old elephant will be living among three other female Asian elephants.
Kaavan was airlifted from Pakistan via a Russian cargo plane, and the American pop singer Cher, who has been campaigning for Kaavan's freedom, is accompanying him to his new home.
"We are pleased and thankful for any relevant parties who have been advocating for his freedom," Pheaktra stressed.
He went on to say the relocation of Kaavan is also Cambodia's pride, pledging that the country will continue to carry out conservation work related to Asian elephants as best as it possibly can.

The relocation of the 35-year-old Asian elephant to Cambodia was made following a July 2020 judgement from the Islamabad High Court that resulted from a campaign by animal rights activists and also Cher to demand for his release. The petition campaign for his release gathered more than 400,000 signatures.
This came after the court's decision in May 2020 which ruled that Kaavan had been mistreated in Islamabad's zoo and was ordered to be freed.
Kaavan arrived in Pakistan in 1985 from Sri Lanka when he was just one year old. The Islamabad Zoo denies any wrongdoing or mistreatment of the animal, insisting that Kaavan was merely distressed following the death of his mate Saheli in 2012. Since then Kaavan had been the last elephant left in the zoo.
Related Articles