Kampong Speu Governor Tells Alcohol Companies to Remove Adverts in Public Places or Pay Up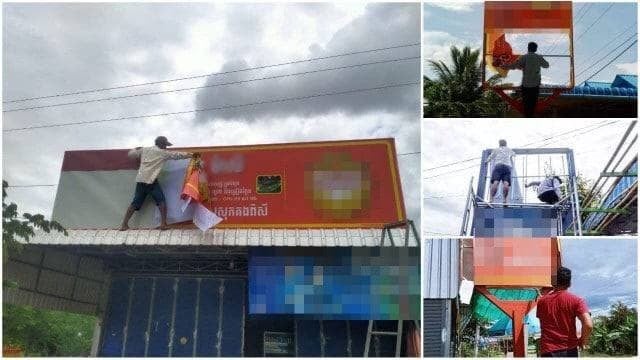 After banning alcohol advertising in Kampong Speu Province, Governor Vey Samnang said alcohol companies will have to pay for the removal of the remaining adverts by mid-June 2021
PHNOM PENH--Kampong Speu Provincial Governor Vey Samnang on June 7 said that 80 percent of alcohol adverts in his province have already been removed with the rest scheduled to be taken down later this month.
He said that many billboards depicting alcohol adverts were owned by members of the public and he applauded their participation in the voluntary removal of billboards. He added that it aimed to improve the beauty of Kampong Speu Province.
According to Samnang, alcohol companies will be responsible for the costs associated with the removal of much of the remaining billboards if they are not dismantled before provincial authorities tear them down in mid-June 2021.
"Only the company's billboards in public places still remain, [they] are not in front of people's houses. People have moved about 80 percent by themselves," he said. "So we guaranteed that by mid-June, there'll be none remaining. If the company does not dismantle them, we will have a team to help dismantle remaining adverts and the cost of dismantling and damaging those billboards are the alcohol companies' responsible."
In May 2021, he ordered a ban on all alcohol advertising on billboards in a move reportedly aimed at "restoring the dignity and beauty of the province."
The decision by the Kampong Speu provincial authorities came just weeks after 38 civil society organizations issued a joint statement, expressing support for the nationwide ban of alcohol sales issued by the Cambodian authorities as part of their efforts to prevent the spread of COVID-19.

Additional reporting by Phoung Vantha.
Related Articles