Kampong Thom Provincial Police Chief Facing Sexual Harassment Investigation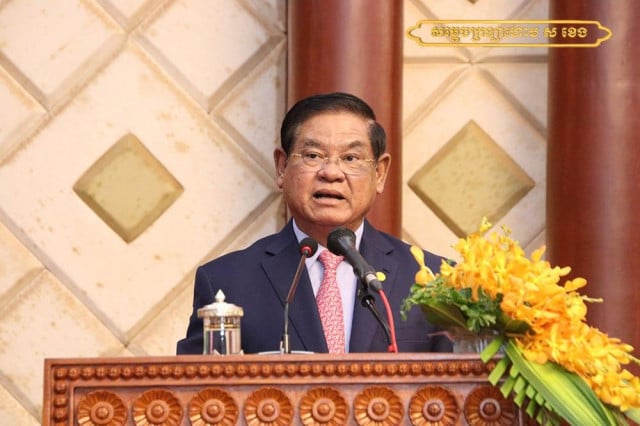 Phoung Vantha and Lay Sopheavatey
August 11, 2020 10:49 AM
Four female officers have filed an official complaint against Ouk Kosal, provincial police chief of Kampong Thom Province, claiming that he sexually harassed and threatened them.
PHNOM PENH--The Minister of the Interior Sar Kheng on Tuesday (Aug. 11) ordered the chief of National Police and the governor of Kampong Thom Province to investigate the provincial police chief in relation to sexual harassment.
Kheng has instructed National Police Chief General Neth Savoeun and Provincial Governor Sok Lou to investigate on Kampong Thom Provincial Police Chief Ouk Kosal's sexual harassment following complaints filed to the Interior Ministry by a group of female police officers.
"I have not yet decided how to deal with it, waiting for the team to investigate," said Kheng.
Four female police officers filed a complaint with the Interior Ministry and have called on Interior Minister Kheng to help them find justice and take action against Kosal.
"In addition to using immoral words, he [Kosal] also forced [himself on us] and touched [our] genitals without fear," the official complaint, dated July 30, read. "Although sometimes we tried to resist or we would want to shout for help, we knew we could not because we are afraid of his power as a provincial police chief—he also threatened us, saying that there would be problems if we dared to tell anyone about his actions."
On March 26, 2020, Kheng warned and disciplined Kosal over his management style and lack of leadership, saying that any official who is found to have committed a sexual offense will face legal action.
"I have already issued a warning letter to everyone and I promised that after the warning if they persist then the next step is to fire [them] or take more serious administrative action," he said.
Ouk Kosal could not be reached at press time on Aug. 11.
Provincial Governor Sok Lou said that he received an order from Interior Minister Kheng and will work with the Interior Ministry to investigate the case of Kosal.
He also noted that Kosal had been warned once before by Kheng, but pointed out that the complaint dates back to incidents happening 2018 and 2019.
Related Articles