Kandal Authorities Destroy Shipment of Contaminated Vietnamese Vegetables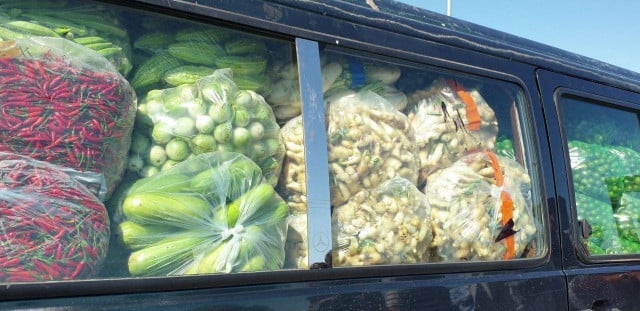 Ou Sokmean
June 15, 2020 4:59 AM
Following a routine inspection of vegetables imported from Vietnam, authorities under the Ministry of Commerce seized and destroyed a batch found to be contaminated with pesticides.
PHNOM PENH--Authorities in Kandal province on June 12 seized and destroyed a shipment of vegetables imported from Vietnam after an inspection found traces of chemical pesticides in a variety of the produce.
Imported cauliflowers, okras, pumpkins, onions, lemons and Chinese cabbages were all found to contain an unacceptable level of pesticide residue when inspected by officers of the General Department of Consumer Protection, Competition and Fraud Prevention unit that falls under the Ministry of Commerce to perform quality control on imported goods and goods for exports.
General Department of Consumer Protection, Competition and Fraud Prevention seized the batch of tainted vegetables at the Chrey Thom International Checkpoint Gate in Chrey Thom Village, Sampov Poun Commune, Koh Thom District, in Kandal Province on June 12, 2020, citing the potential health impacts that such a high level of pesticide could have on consumers.
Governor of Kandal province Kong Sophorn on June 14 said that those vegetables that Camcontrol found to be contaminated with pesticides were then destroyed.
"We must continue to import fruits and vegetables from Vietnam in order to meet the local demand, but we have also had to increase the regularity of our quality control checks at border crossings to guarantee the safety of Cambodian customers, other authorities are doing the best they can," he said.
Chan Sophal, director of the Center for Policy Study, noted that, despite the fact that Cambodia has significantly expanded its agricultural production in recent years, the country still imports between 200 and 400 metric tons of fruit and vegetables every day, with 60 percent of these imports coming from Vietnam.
"Fifty percent of the vegetables Cambodia imports from Vietnam are also produce that Cambodian farmers do not commonly grow," Sophal told Cambodianess in a phone interview on June 12. "Those include carrots, potatoes, cabbage, Chinese cabbage and capsicum."
Sophal added that the Cambodian market loses up to $200 million annually as a result of fruit and veg imports from Vietnam.
Pok Panha, a professor and researcher at the University of Battambang, said that the vegetables and fruits that contain pesticides may cause dizziness, diarrhea and vomiting, but can also lead to serious illnesses in the long-run.
He warned that the use of toxic chemicals as pesticides can also have environmental impacts, particularly on the soil the produce is planted in, but also they have been known to affect water sources and create air pollution. Similarly, they are dangerous to animals and humans if consumed.
"Chemicals used in agriculture are a double-edged blade," he said, acknowledging that farmers need to protect their crops, but should do so in a way that doesn't impose such threats to customers and the environment.
On June 11, Cambodian farmers submitted a request to authorities, hoping to establish a hotline that farmers could use to report the illegal importation of fruit and vegetables, especially those contaminated by pesticides.
The following day, the Interior Ministry issued a letter ordering provincial administrations to tighten border control and to be on the look-out for imports treated with pesticides and goods past their sale-by date.
Related Articles