Kandal Provincial Prison Reports 50 COVID-19 Cases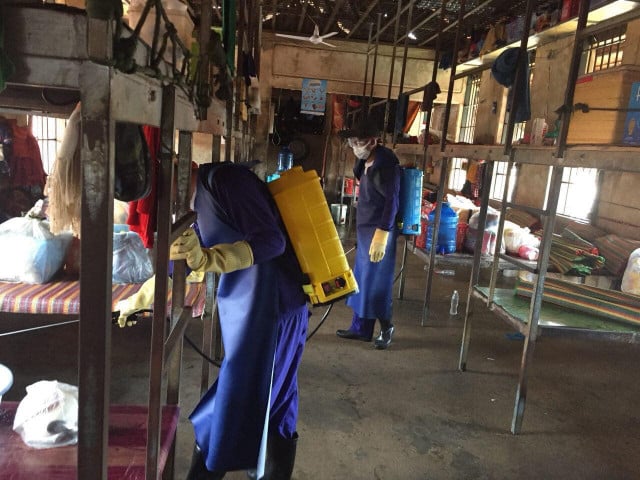 Phoung Vantha and Lay Sopheavotey
May 25, 2021 12:30 PM
Cambodia's most overcrowded prison has reported at least 50 cases of COVID-19, but authorities refuse to disclose information key to understanding the severity of the outbreak.
PHNOM PENH--Authorities are scrambling to contain a COVID-19 outbreak in Kandal Provincial Prison where 50 inmates and guards tested positive for the virus on May 25.
Nouv Peng Chandara, deputy provincial governor of Kandal Province, said that he was unsure how many of the 50 new cases were inmates and how many were prison staff.
"We conducted rapid tests this afternoon and the results showed that primary information there were 50 people tested with COVID-19," he said.
Peng Chandara, added that health authorities will continue to test both inmates and prison staff along with quarantining those who have tested positive for the virus. Authorities are now working to establish how the outbreak began and who has come into either direct or indirect contact with infected inmates and staff.
The number of tests conducted within the prison remains unclear, but Kandal Provincial Prison was, as of December 2020, the most overcrowded prison in all of Cambodia. It was last known to be operating at 894 percent of occupant capacity with facilities built to hold 318 inmates now housing 2,844.
Kandal Provincial Prison Director Chat Sineang could not be reached by reporters at press time.
Earlier this month the General Department of Prisons announced it would be vaccinating all prisoners and that some 10,000 had already been inoculated by May 13, but it remains unclear how many inmates at Kandal Provincial Prison have received their jabs to protect them against COVID-19.
This comes after Human Rights Watch and Amnesty International issued a joint statement on May 23 calling for greater protections for prisoners, many of whom the statement noted are in pre-trial detention and have not yet had their day in court.
Their call came after at least 18 inmates at Prey Sar Prison in Phnom Penh, and 34 inmates at Preah Sihanouk Provincial Prison tested positive for COVID-19 this month.
Related Articles