KE Partners with CBI to Bring Cambodian Handcrafted Products to International Markets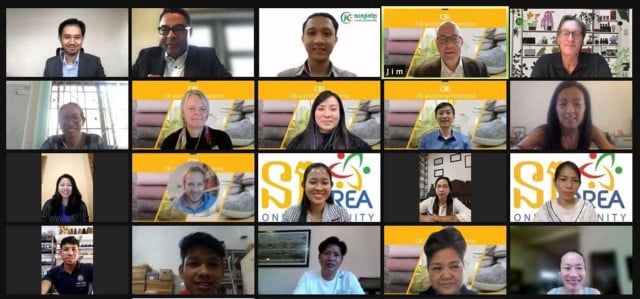 Khmer Enterprise (KE), a unit under the Ministry of Economy and Finance, has entered into a strategic collaboration with the Centre for the Promotion of Imports​​ (CBI) on behalf of the Ministry of Foreign Trade and Development Cooperation of the Kingdom of the Netherlands. Together, both organisations will help local small and medium-sized enterprises in the Home Decoration and Home Textiles (HDHT) sector connect with European and global markets.
H.E. Dr. Chhieng Vanmunin, CEO of Khmer Enterprise, said, "In line with the Royal Government of Cambodia's policy on export diversification, this collaboration project will showcase products from Cambodia internationally. It brings many benefits including the support of existing business and opening up of new markets for handicraft SMEs who experienced difficulties as a result of the COVID-19 crisis."
Pauline Döll, Managing Director of CBI, said, "The collaboration with Khmer Enterprise will help the sector and selected SMEs in particular. With our project, we will contribute to sustainable growth of the sector and its success in international markets."
In this joint project, Khmer Enterprise will provide financial support to selected SMEs to help them carry out market readiness activities. CBI will provide coaching, training and market access support. The SMEs will participate in intensive training and mentoring sessions. These will cover marketing and design, European Union legal standards and requirements, sustainable practices and trade fair participation. The SMEs will get legal registration and product quality certification, set up digital sales and financial management solutions, and create sales opportunities by sending product samples.
H.E. Dr. Vanmunin added that enhancing access to the global market is important. It will help SMEs scale up their business operations. Pauline remarked that besides direct support to the selected SMEs, the partnership also supports the development of a business-enabling environment for the HDHT sector in Cambodia.
The joint project will run until 2024. Khmer Enterprise and CBI will engage in other activities to promote market access and help Cambodian SMEs to become more competitive.
Related Articles