Kem Sokha Claims Innocence while the CCHR Raises the Issue of his Getting a Fair Trial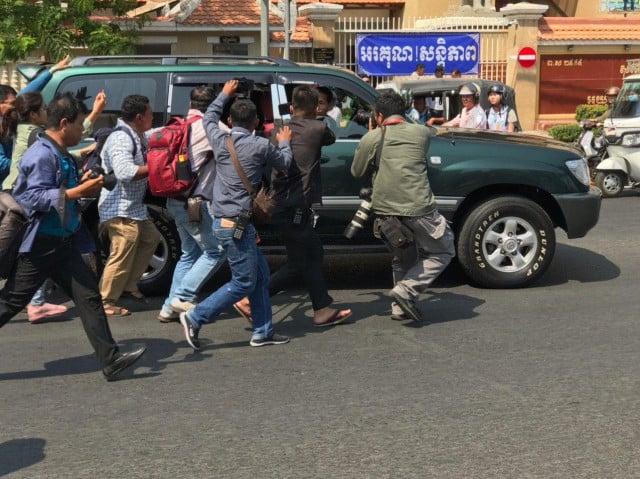 Phoung Vantha
January 15, 2020 7:15 AM
PHNOM PENH--Former opposition leader Kem Sokha whose trial began Wednesday in Phnom Penh has denied all charges of "conspiracy with foreign powers" brought against him by the Cambodian authorities.

"I did NOT bring in foreign states or foreign agents to conduct hostility or invasion against the Kingdom of Cambodia," he said Wednesday on his Facebook page.
All his efforts were focused on human rights and democracy and actions carried out in peaceful and non-violent manners in accordance with the Constitution of the Kingdom of Cambodia, wrote Sokha who was leader of the now-dissolved opposition Cambodia National Rescue Party (CNRP).
"My political activities were focused on the participation in free, fair, and just elections that truly reflect the will of the Cambodian people," he said.
Calling on the court to drop charges against him so that he can, Sokha said, "fully exercise my political freedom in participation in serving and defending the interests of the country and the people."
Sokha's trial is held at the Phnom Penh Municipal Court in a small courtroom whose seats were assigned through a request process. The press is not allowed inside the courtroom and will have to follow the trial from outside.
The Cambodian Center for Human Rights (CCHR) Wednesday expressed its concern regarding the way those seats were assigned. Several individuals who attempted to register reported long delays and an overcomplicated process, which has acted as a barrier, preventing many independent observers including NGOs and media outlets to attend the trial.
Moreover, CCHR Executive Director Chak Sopheap said that, with Sokha having been detained either in prison or under de facto house arrest for two years and two months, the fact that he was treated as a convicted criminal for the past 26 months has seriously infringed on his right to be presumed innocent until proven guilty, which is a right guaranteed under international and domestic law.
"The dissolution of the CNRP by a widely criticized Supreme Court decision, and numerous public statements made by the Prime Minister and other officials concerning his guilt, further undermine the presumption of innocence and are in contradiction to the state's duty to refrain from prejudging the outcome of a trial, including by abstaining from making public statements affirming the guilt of the accused," Sopheap said.
Related Articles