Kep Declares Itself Cambodia's First Landmine-Free Province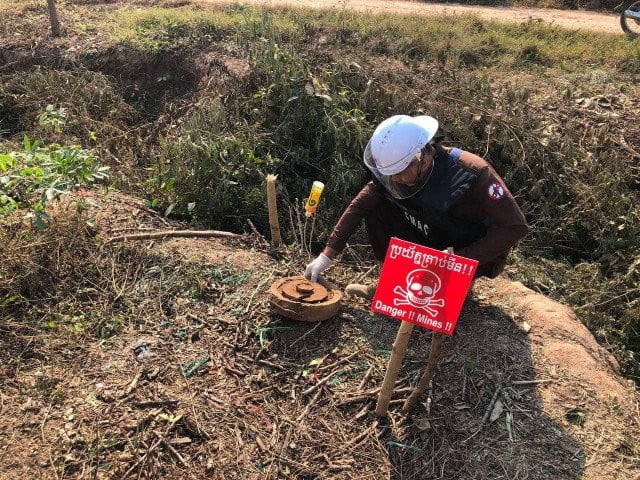 The 336-square-kilometer province of Kep is the first in Cambodia to declare itself free of landmines, but experts warn that unexploded ordnance may still prove a threat

PHNOM PENH--Kep Province on Feb. 28 declared itself the first Cambodian province to be landmine-free, with Kampong Cham, Kandal, Preak Sihanouk, Prey Veng, Ratanakiri and Takeo provinces, as well as Phnom Penh, all set to declare their success in demining later this year.
As of 2021, Cambodia had 2,017 square kilometers of land riddled with ​​unexploded ordnance, of which 788 square kilometers are believed to contain land mines, which Cambodia aims to clear by 2025.
Speaking at the landmine-free celebration, Kep Provincial Governor Som Piseth said that his province has once been a battlefield that had witnessed heavy fighting between government forces and the Khmer Rouge, particularly in mountainous areas, but after the end of the war, many areas were left with mines and unexploded ordnance.
Piseth added that 221 casualties—198 in Damnak Chang Eur District and 23 in Kep City—were recorded as a result of unexploded ordnance by 2021.
Twenty-seven minefields spanned some 430 hectares and more than 700 anti-personnel mines, along with 601 unexploded ordnance, were found in Kep Province.
"Even though we are the first province to clear mines, I believe that the mine authorities and donors will continue to support Kep in this area to address the issue of explosive remnants of war," said Piseth.
Ly Thuch, deputy head of the Mine Action Authority said that the government decided to select Kep Province to clear and declare the first demining province with the financial support of Norway and Hungary by choosing the Cambodian Mine Action Center (CMAC) as a minesweeper.
"Even though Kep Province is clear of landmines, there are still issues about unexploded ordnance from the war, please be careful and join together to take measures to resolve and respond to those unexploded ordnance in a timely and effective manner," he said, adding that Cambodia has suffered from chronic wars since the 1960s, leaving both with landmines and unexploded ordnance in their wake.
Thuch stated that in order to support the government's priority plan and to achieve the vision of a mine-free Cambodia by 2025, the Mine Authority has developed guidelines on the implementation of a demining village mechanism that will ensure that all minefields in villages are cleared with the aim of speeding up demining and attracting new donors and investments from the private sector.
The Mine Authority is mobilizing financial resources from development partners, friendly countries, national and international demining operators, investors and philanthropists to support and clear, starting from one village to another and from one province to another.
On Feb. 24, Cambodia joined in celebrating the 23rd anniversary of National Mine Awareness Day. Over the past 30 years, experts have gained experience in dealing with post-war crises, including 4-6 million anti-personnel mines, anti-personnel cluster munitions, and over 30 million anti-aircraft bombs.
In the meantime, CMAC has decided to clear nearly 2,000 square kilometers of land, find and destroy nearly 3 million mines, equivalent to about 75 percent of the total mines believed to remain in Cambodia.
Related Articles