Khmer Bokator: A Martial Art Adopted from Animals and Plants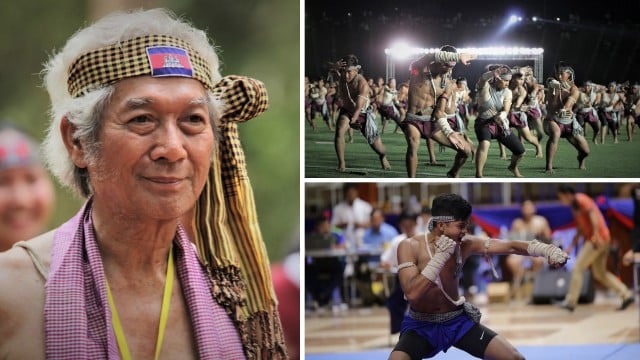 Ky Soklim
March 20, 2021 4:28 AM
Fighting techniques carved on Angkor temples show human and divine forms

The Khmer bokator martial art has been recognized increasingly on the international stage over the past few decades. However, bokator is believed to have been created before the Angkor Era from the 9th to the 12th century AD.
Bokator, with its roots deep into history, tradition and spiritual belief, has represented itself as a source of pride for Cambodia. It captures the imagination of all classes in society and is in the process of being recognized as UNESCO intangible heritage.
ThmeyThmey senior journalist Ky Soklim conducted a phone interview with martial artist and grandmaster San Kim Sean, founder of the Cambodia Bokator Federation, on his views of the martial art.
Grandmaster San Kim Sean, born in 1945 in Phnom Penh, has worked tirelessly to preserve this particular martial art.
Ky Soklim: To begin with, grandmaster San Kim Sean, you have been involved in this martial art for so many years. When did you first begin learning bokator? What was the driving force behind your passion?
San Kim Sean: Well, I do not know if it was a destiny from my previous life. Since I was a kid, I usually liked to fight playfully with other kids in the village. When I reached the age of 13, I went to study bokator with my adoptive uncle, Khem Leak. While working at the shipyard, he was also a bokator trainer from the district of Moung Ruessei in Pusat province. After noticing my potential, he decided to teach me the martial art of bokator.
Ky Soklim: Was Khem Leak a popular martial artist at that time or was he just a trainer among many other martial artists?
San Kim Sean: He used to tell me about this own biography. He came from a family of martial artists in Pusat province. His grandfather and his father were all martial artists equipped with spiritual beliefs and powers in the old days.
Ky Soklim: Do you know how old is the bokator martial art?
San Kim Sean: From history, we have seen sculptures of this martial art on the gallery of the Angkor Wat and Angkor Thom temples. Normally, the ancestors who carved out these sculptures, apart from just being sculptors, were also martial artists.
If they were not martial artists, they could not have known how the fighting gestures would look like when carved on the stone.
So, it seems that the martial art was created even before the Angkor Period. Based on my observation, the fighting movements of bokator were inspired by animals such as lions, snakes or even wild boars.
In the far past, our ancestors thought a lot about survival. They were living primitively and indigenously. So, their livelihood revolved around the art of fighting. They were influenced by the movements of wild animals. More than that, some of the combat movements were also adopted from the movements of plants and kinds of tree.
Ky Soklim: How many movements are there in the bokator martial art?
San Kim Sean: I don't exactly know the number but they are diverse. Since there are so many movements and classifications within this martial art, it can be a bit hard to classify which is which.
As a way to show the number of combat movements students have obtained, I have created a system of krama (Khmer traditional woven scarf), instead of a belt, to represent the levels of training. The greatest honor, which is beyond the black krama, would be the golden krama.
Ky Soklim: Officially and unofficially, how many people are involved in bokator training?
San Kim Sean: The number is in the thousands. However, not all can keep training long enough. Some may face personal issues and they have to leave the training behind.
So far, at the provincial level, we have created an association to preserve and develop the martial art. The association has expanded across seven provinces and cities with help from the Ministry of Culture and Fine Art.
We are also planning to add the bokator martial art to the educational curriculum for students across the country. For the last several years, we have gathered around six or seven thousand students from schools that take part with the association.
There is a training place in Kampong Ch'nang province where primary school students are trained in bokator. With more space, it is easier to train students in the provinces than in the city.
Ky Soklim: Grandmaster, as I understand it, bokator will be involved in the 2023 SEA game in Cambodia. Furthermore, the Cambodia Bokator Federation is also planning to expand this martial art to some of the neighboring countries in ASEAN. What tasks are you working on?
San Kim Sean: I have been discussing a lot with some of the key decision-makers in the federation about making bokator training available for other martial artists outside Cambodia. We have done some of the work since 2009 when we introduced our martial art to the World Martial Arts Union in Chungju, South Korea. We have also conducted many seminars in many nations such as Japan, the US and France.
Ky Soklim: What do you think about the human resources within the martial art? Are the trainees very determined about their training? Are they passionate about their fight? Do they train just for physical entertainment?
San Kim Sean: There are all sorts of trainees just as you mentioned. There are people who train for their own health. There are people who train to preserve the martial art culture, so on and so forth. However, bokator has not yet been taken up as a professional career by those who train. Unlike bokator, the martial art of Khmer free boxing has captured a strong commitment from many people. Some Khmer free boxers put their life on the line for the sake of boxing.
Ky Soklim: Grandmaster San Kim Sean, how many martial arts have you learnt?
San Kim Sean: The first martial art that I learnt was bokator. I also managed to learn the art of stick fighting and free boxing in 1959. In 1960, I began to study judo and karate afterwards. In 1969, I introduced hapkido into Cambodia.
Ky Soklim: When did you begin teaching bokator in Siem Reap?
San Kim Sean: I started to teach bokator first in Phnom Penh. Afterwards, I went to teach it in the province of Siem Reap. Since then, a huge number of tourists who visited Siem Reap were introduced to bokator.
Ky Soklim: In terms of all of the martial arts you have learnt, which one do you think is best?
San Kim Sean: All martial arts are best in their own way as long as you train well enough. Technically speaking, I think hapkido is quite good.
Ky Soklim: Since you have been teaching and preserving bokator and this art of fighting has been created well before and during the time of the Angkor Wat, have you ever thought that you are helping keep the spirit of the Angkor Era alive?
San Kim Sean: I and my family have sacrificed a lot for martial art to maintain it for upcoming generations. For over a decade, we have been trying to submit documentation about the bokator martial art for UNESCO's intangible heritage list.
In writing my book about the martial art, I often visited Angkor Wat to study bokator on the temple walls. Over there, our ancestors carved out all sorts of sculptures that are related to this martial art.
We have two forms of fighting. The first is divine fighting and the second is human fighting. The divine fight can be described on the galleries of Angkor Wat where the combat of Rama or Hanuman and many other mystical beings are depicted. The form of human fighting can be described on the walls of the Angkor Thom, a temple that was constructed during the rule of King Jayavarman VII.
Ky Soklim: The Bokator Association has granted you the honorary title of grandmaster. Has grandmaster San Kim Sean ever thought of the future with the association for the rest of your life?
San Kim Sean: I have been sacrificing much of my effort for it since I was young. My goal is to promote the Cambodian flag and the Cambodian Bokator Federation's flag on the international stage until the last time that I close my eyes. I want to close my eyes with peace in mind. I want to fulfil my intention of serving our nation and our kingdom for later generations.
Related Articles
January 17, 2020 11:24 AM