Khmer Literature Finds a Champion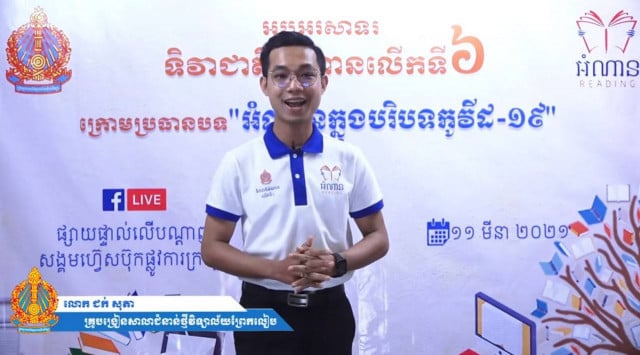 Teacher dedicates his life to art culture
PHNOM PENH– Picking Khmer literature for an undergraduate degree appears less popular for young Cambodians who are gravitating to technology and foreign languages.
However, for high school teacher Chouk Sophea, promoting Khmer literature and reading culture has been his lifelong mission.
Sophea, 27, has been teaching Khmer literature at Prek Leap High School since 2020. His love of the subject began when he was a child. After high school in 2017, he got a scholarship and graduated with a Bachelor of Arts in Khmer literature. He is now doing his master's in the subject at the Royal University of Phnom Penh.
Khmer literature: a choice that nobody favors
Studying literature is Sophea's main goal in life. However, even his own teachers were not happy with his decision.
"Some friends even mocked me and asked if I hadn't learned enough Khmer and that I had to choose to pursue my higher degree in Khmer language," he recalled.
But what upsets him, makes him stronger and more focused and encouraged him to double his efforts to study.
"Despite the disparaging words, I could still love my studies and focus intensely on the subject," Sophea said. Due to his efforts, he was able to pursue his second-year study at the Tokyo University of Foreign Studies in Japan.
When asked what was behind his strong desire to study Khmer literature, he said he considered it his contribution to preserving the culture and national heritage.
"I always think that by learning this literature, we can at least preserve our national heritage and culture," he said. He wanted to do as many Khmer scholars had done in the past by producing many great literary works that last for generations.
Su Chhum Long, vice president of the National Council for the Khmer Language, who helped supervise Sophea to write his master's degree thesis, praised Sophea for his hard work and commitment to studying Khmer literature.
He said studying Khmer literature not only improves people's knowledge of Cambodian culture and identity but also shapes their characters, especially about using the knowledge in real life for society. For example, Sophea contributes his knowledge to promoting Buddhist literature and helping young people read more.
"I hope Sophea continues his mission as a teacher at Prek Leap high school to train his students creatively and create more accomplishments in the society as well as be a role model for other young people," he added.
Twice gold medal winner in reading competitions
Sophea has also been active in writing and reading competitions. In 2020 he won second prize in poetry composition in the Buddhist Academy Awards and has been a gold medal winner in the interpretation of Khmer literature in National Reading events for two seasons.
These victories are due to the support of his family as well as all the teachers who have helped train him over the years. But his success cannot be separated from his reading efforts.
"In fact, knowledge and achievement come from my habit of reading that I have trained myself so hard," Sophea said.
The theme of the 7th annual National Reading Day in 2022, held on March 12, was more related to his passion for medieval literature. This had inspired him to work on an essay on the role of Buddhist literature in the post-Angkorian period.
Asked for advice for those who seek to apply for the competition, Sophea said they should plan their writing ahead, especially how they will start and from which angle. They should do thorough research as well as gather related information to improve their writing.
"The work they produce must also consider the value and moral of the story which reflects the current society. However, they also need to provide proper sources, especially the previous works done by older generations. These help our work to be stronger," he said.
Hope to promote reading habit among students
Sophea said responded there had been a significant change in reading culture in Cambodia as many youngsters started to like reading, especially novels.
He also noted that by organizing the National Reading Day, the Ministry of Education is trying to cultivate the habit of reading, especially among primary school students. Reading is a bridge that leads people to success in life just like him who can study at Japan and win for two seasons.
However, he said reading novels alone is not enough. , People should read other books, including social issues, philosophy and science.
Asked if he has plans to expand his work promoting reading among young people, Sophea this was a challenge for him as a high school teacher. However, he is determined to keeping working to motivate his students to read and research.
"I normally provide extra homework and organize extra activities to help my students to read many books as well as analyze content. With this, they also can be prepared for reading competitions every year," he said.
Related Articles