Khmer Republic's Minister Chhang Song in Critical Condition in Hospital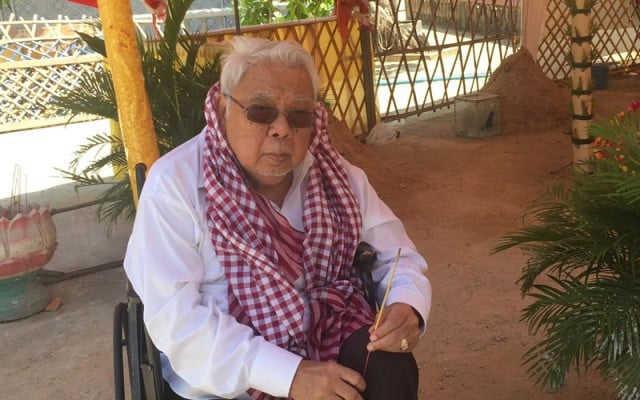 Sao Phal Niseiy
May 21, 2021 5:27 AM
According to a statement received on May 21, Chhang who served as military spokesperson and minister of information during the Lon Nol regime in the early 1970s, still is clinging to life.

PHNOM PENH--Chhang Song who, during the civil war of the 1970s, served as the military spokesperson for the national and international media, currently is on life support in a hospital in Long Beach, California, in United States.
When contacted on May 19, his family believed and had said that he had passed away. However, according to a message received from his wife Sarun Sum on May 21, Song remains in critical condition but still is alive. "[H]e is still clinging to this world on life-support in the ICU [intensive care unit]," she wrote. "He is in extremely critical condition but we remain hopeful for a miracle to bring him back."

Born in 1939 in Takeo Province, Song had obtained a scholarship to study in the United States in the early 1960s and had graduated from the Louisiana State University in 1967.
During the civil war of the early 1970s, he served as deputy to military press spokesman Am Rong and, in 1974, as minister of information. He was one of the Cambodian government's major sources of information on the conflict for the national and international press.
As Song had explained in an interview in Phnom Penh in 2010, his role consisted of keeping the media informed, saying enough to satisfy the media but without revealing military secrets.
"He was a good friend of journalists and tried very hard to be open and honest with us in the most difficult and frightening years," said Elizabeth Becker, a journalist who was covering the war for The Washington Post and who would later write the book "When the War is Over, Cambodia and the Khmer Rouge Revolution."
"Journalists relied on him during the war and remained friends with him over the years," she said in an email interview. "He loved his country."
At the time, the Khmer Rouge forces supported by then-Prince Norodom Sihanouk, who had been ousted as head of state in 1970 and now was backed by China, were battling the armed forces of what had become the Republic of Cambodia headed by Lon Nol and backed by the United States.
Shortly before the victory of the Khmer Rouge on April 17, 1975, Song flew in exile with Marshal Lon Nol to Hawaii—he actually was the only Cambodian official to accompany him.
Raymond Leos, who is adjunct professor of International Relations at the Royal University of Law and Economics and has been researching that era, spoke of Song as an important witness to history for the country.
"He was someone who had great knowledge about Cambodia and Cambodia's history, and he was someone who could tell us about Cambodia and what is going on now and refer that to the past," Leos said, pointing out that Song had been a well-known figure both among Cambodian and foreign journalists.
As the country moves on, Leos stressed, understanding history is always important for Cambodians who seek to understand current events. And Song remains a great source not only of knowledge but also of wisdom, he said.
"For Cambodians, it is always good to remember the past because we need to know about the past, which should be an insight toward what is going on now," Leo said. "It is good to hear from beyond, but we need people who can provide wisdom, knowledge and ideas. And Song [is] one of those."


Related Articles