Khmer Win Party's Soung Sophorn Is Sentenced to Jail due to Comments on Cambodia-Vietnam Border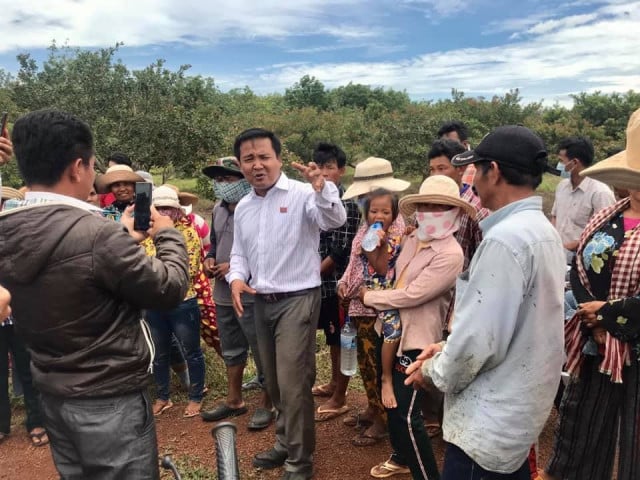 Phoung Vantha and Mao Sopha
February 11, 2021 6:21 AM
He also must pay $500,000 to the Cambodian Border Affairs Committee
PHNOM PENH--Soung Sophorn, leader of the Khmer Win Party, on Feb. 10 was sentenced by the Phnom Penh Municipal Court to 18 months in jail and more than $500,000 in fine.
The Phnom Penh Municipal Court found Sophorn guilty of "incitement [that] causes serious chaos to social security" for having distorted facts related to the Cambodian-Vietnamese border.
Sous Vichyea Randy, the court's administration deputy chief, said that, in the verdict, the court stipulated that Sophorn must pay 4 million riels (approximately $1,000) to the state, and 2 billion riels (approximately $500,000) to the government's Border Affairs Committee.
On Aug. 10, 2020, Sophorn had gone to inspect the border posts between Cambodia and Vietnam in Tboung Khmum Province.
Then on Aug. 13, he had joined protesters at the Phnom Penh Municipal Court who had gathered to demand the release of Rong Chhun—a prominent trade unionist arrested earlier that month for allegedly criticizing the government regarding its border negotiations with Vietnam which, according to some people, have led to Cambodians along the border losing land to Vietnam.
Sophorn, who had given news interviews during which he also had claimed that Cambodia had lost land in the course of these negotiations, was arrested on Aug. 14, 2020, by the Phnom Penh police authorities.
According to a Voice of Democracy news report on Feb. 10, Sophorn rejected the verdict and jail sentence, and said that he will file an appeal with the court and ask to be allowed to spend his prison term under house arrest as former opposition-party Leader Kem Sokha is now allowed to do while on trial.
Efforts to contact Sophorn's attorney and wife for more details have so far been unsuccessful.
Related Articles