Khoun Socheata: shifting from journalism to real estate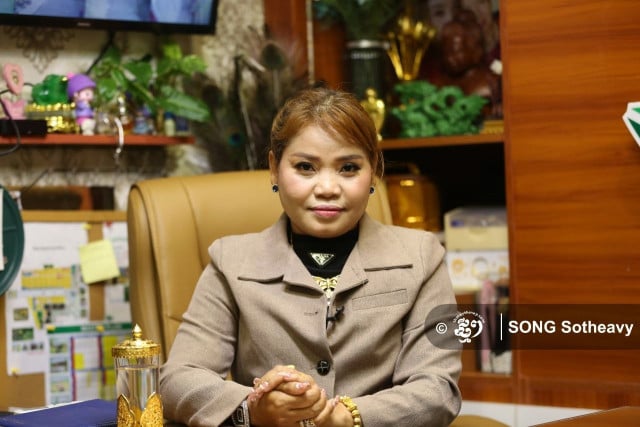 November 23, 2022 6:01 PM
PHNOM PENH – Khoun Socheata, a former official at an NGO and an ex-journalist, decided to switch career to start a business in real estate with her husband to use her potential to its full despite her disability.
Because of her experience in the sector and belief in herself, Socheata invested in the business and launched the Bamnok Eco Park as an agritourism business. In this "New Idea" interview, Socheata shared her journey from worker to business leader.
Song Sotheavy: You had been working for an NGO and in journalism for years. Why did you decide to turn to this agro-tourism business?
Khoun Socheata: Regarding social work, at first I regretted it a little after I started my own business. However, if I were still working for others, I wouldn't have had opportunities or my own ideas to reflect my fullest leadership potential. Nevertheless, I am still doing social work when I am available though I am running my own business.
Song Sotheavy: You are a skilled social worker but then turned to doing business. How have you stayed flexible?
Khoun Socheata: Basically, it is almost 100% different, but I have had to work hard since the first step, which requires us to be highly responsible. There's no longer a monthly salary for me, but I am now in charge of preparing the payroll. As for social work, the job I have loved, I also make time to do it from time to time. I didn't quit it.
Song Sotheavy: You are a wife, a mother and a leader in the business. How do you manage it?
Khoun Socheata: Before, I used to worry a lot about my disability and my loss of what was gone but I realized that although I was later than others in this sector, I remain just as committed and hard working. Because I also have a family, I have to manage my time well such as for business, for family and for myself.
Song Sotheavy: You are running this business with your husband. How does that make it easy for you?
Khoun Socheata: It is a good thing for me because we have experience in working with different cooperators before and we work together. We don't follow the idea of me being a wife so I need to look after our children or do chores, we don't think of it that way. We help each other and can do the tasks for each other. What's more is that we both are using our respective professions to complete each other. He is good at land checking while I am doing the marketing. So, the business goes smoothly.
Song Sotheavy: You have just started this business, but you appear to be outstanding in the marketing. What techniques do you have for doing it?
Khoun Socheata: Marketing techniques are different from others, as I did not study this marjor, but I would like to share my experience. First, I to love it, then have to think whether I can sell it and how. I asked, is there any special part for myself? I focus on quality and domestic market. I'd rather get little profit as long as the business is able to run permanently. Having a little loss is considered as experience from which we learn to strengthen for better marketing.
Song Sotheavy: It is remarkable that your customers are high-class or upper-class groups of people. How did you build a network with them?
Khoun Socheata: I have been asked a lot about this. It is something that requires us to have good communication, to do social work, and to socialize with people, high ranking or low ranking, meaning that I respect them in accordance with the name of being a seller regardless of their status. I know myself clearly, and if I am sure about the business, they have no doubt to buy from me. More importantly, the customers trust us, the sellers, so if we are serious in this matter and have a good reputation, then the products will definitely be sold out.
Song Sotheavy: The most important thing is that you and your husband are so confident to the point that you even invested your land and house ownership certificates to take a loan as the captial to start this business. What was the reason for such a risky decision?
Khoun Socheata: This is very important. In doing business, if we don't take risk, we won't be able to seize an oportunity. Thus, we saw a good importunity and we are confident about ourselves that we can get it back, that we can sell it, and that we can expand it too. At first, we were scared too, but we later on got braver, and we trust each other, because we don't cooperate with any other people. One more thing is that, we also create new ideas, creative, attractive, and use the potential of agriculture in the counry. We are honest and can bring out the result, which enable the customers to trust us even more. Basically, it was 50 percent that we are confident about us, but we have grown to 70 percent, so we can't go back. It is like riding a bike. We can't stop in the middle of progress, otherwise we'll fall.
Song Sotheavy: As the leader of this real estate business, how have you stayed motivated and committed thus far?
Khoun Socheata: There were many challenges about both internal and external work, staff, and finance. When am demotivated, I always ask myself that, if I am discouraged, who can help me? It's only my family and myself. I cannot rely on friends or people I know. There's only me who can help myself. If I don't overcome the obstacles, I willl lose the opportunities. I must go on despite low or high incomes because the hard work will go to waste.
Even though it is hard to walk on this path, but I will reach my destiny, otherwise it will be impossible. Therefore, I must keep up, and not give up. Those who are also the boss of others will understand me in this sense. The staff are from afar and some are also near, which is always an obstacle, so when we do something, we must be sure about the plan: How to expand? How to reduce? How to emerge? I have to know myself well, or the new plans will be closed soon after being launched. It's basically up to the leader.
Originally written in Khmer for ThmeyThmey, this story was translated by Meng Seavmey for Cambodianess.
Related Articles