King Sihamoni appeals to Asian countries to use ancestral values to manage today's challenges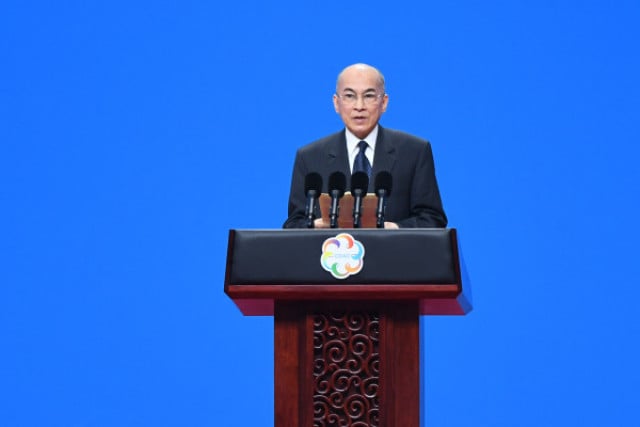 Thmey Thmey
May 15, 2019 11:31 AM
PHNOM PENH--King Norodom Sihamoni Wednesday called on Asian nations to join force and enable their religious and social traditions to play a greater role in addressing the breakdown of social morality taking place in today's fast-changing world.
Speaking on behalf of Cambodia at the opening ceremony of the first Conference on Dialogue of Asian Civilizations, which is held in Beijing and is attended by more than 2,000 officials and representatives from 47 countries, King Sihamoni said that social morality and behavior have declined, affecting cultural and civilizational sustainability on a global scale while the world continues to advance technologically and scientifically.
"The world today faces unprecedented scientific and technological transformation and great development of social resources," King Sihamoni said. "At the same time, we have seen various socio-ethic problems and racial conflicts, which have severely affected the dignity of culture and cultural sustainability or even the future of humanity."
King Sihamoni calls for nations to work together to address social morality issues
In his address, King Sihamoni called for closer cooperation among nations to increase their role and responsibility in the promotion of mutual understanding and respect to the benefit of the world.
"In this regard, the most pressing task for Asia and the world is to have a greater sense of responsibility for the future of mankind," he said. "We need to have great mutual understanding…have frank engagement and mutual respect, create condition for mutual learning and work together to promote the development of Asia."
The Cambodian King also highlighted the importance of religions in supporting ethical value and tolerance in order to maintain world peace.
"In this process, religion plays an important role in enhancing ethical conduct, building a harmonious society and upholding world peace."
King Sihamoni recognizes the contribution of India and China to Cambodia's civilization
In his remarks, King Sihamoni noted that India and China—two ancient civilizations—had contributed to the evolution of Cambodia's culture going back to the Khmer empire centuries ago.
"As one of Asia's countries, Cambodia has been deeply influenced by Buddhism and Hinduism, and served as a meeting place for Indian monks and Chinese merchants for several centuries.
"This connection gave a boost to Khmer culture and significantly contributed to the Angkorian civilization, which captured the imagination of the whole world," King Sihamoni said.
The king concluded his address by expressing his appreciation for the grand vision initiated by China's President Xi Jinping to build "a community of shared future for mankind."
King Sihamoni pointed out that "[T]his vision enables every country either small or big to enjoy a shared future with China that values peace and is a truly admirable nation."
President Xi first mentioned his intention of holding the Conference on Dialogue of Asian Civilizations at the fourth summit of the Conference on Interaction and Confidence-Building Measures in Asia in Shanghai in 2014. He brought it up again during the Boao Forum for Asia in 2015.
King Sihamoni arrived in Beijing Monday to attend the conference and is scheduled to return to Cambodia Thursday. The conference ends May 22.
Related Articles