King Sisowath's Trip to France in 1906: Conference on his Visit during which He Was Greeted as a Superstar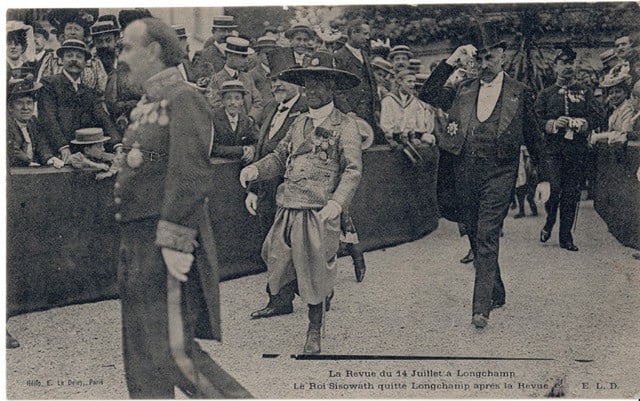 September 19, 2022 7:00 PM
PHNOM PENH — In June 1906, King Sisowath embarked on a trip that, by today's standard, would be considered a public relations coup for Cambodia.
As Olivier de Bernon wrote in his introduction to the book "Voyage en France du Roi Sisowath" (the trip in France of King Sisowath), "[this trip] was extravagant in terms of publicity it generated and the enthusiasm among the public it produced."
The king was 66 years old at the time, de Bernon wrote. "[H]is grand-father's warmth and his manners of a divinity on a visit charmed the crowds and captivated, the protocol transfixing this into a passion."
De Bernon said in the book and may mention during his conference at the French Institute on Sept. 20 that, prior to his arrival, the public had also learned that, upon hearing that 1,200 workers had been killed in a mining accident in France, King Sisowath had sent a large donation to the workers' families. So, throughout his stay from June 10 to July 20, 1906, enthusiastic crowds cheered him wherever he went, and the press covered his every move.
The book, which was published in 2006 to mark the 100th anniversary of King Sisowath's trip to France, consists of the detailed notes on the trip written by Oknia Veang Thiounn who was among the 100 or so dignitaries, staff and Khmer classical dancers who had travelled with the king. Thiounn was secretary of the Council of Ministers at the time and may have kept this detailed report on the king's trip with the intention of publishing it later for the Cambodian public, de Bernon wrote.
A Khmer language expert, de Bernon worked for years on the preservation of the written documents and archives of Cambodia's pagodas. He is currently the director of research at the Ecole française d'Extrême-Orient (EFEO)—the French institution that began restoring monuments at Angkor and researching Cambodia's culture and traditions in the early 1900s.
The conference at the French Institute coincides with an exhibition on the trip of King Sisowath in France that the SOSORO Museum in Phnom Penh will hold in October. "The French Institute is set on working with other stakeholders of the Cambodian cultural landscape and to support them in their projects," said Valentin Rodriguez, cultural attache and deputy director of the French Institute in Cambodia. "This conference…is meant as an introduction to the exhibition that will open at the museum in early October."
The conference, which starts at 6:30 pm at the French Institute on Tuesday, Sept. 20, will be held in French and Khmer with simultaneous translation into French or Khmer.
The French Institute is located at 218 Street 184. For more information on the conference:
https://institutfrancais-cambodge.com/conference-le-voyage-du-roi-sisowath-en-france/#/
Related Articles