Koh Kong Team Tops Youth Business Awards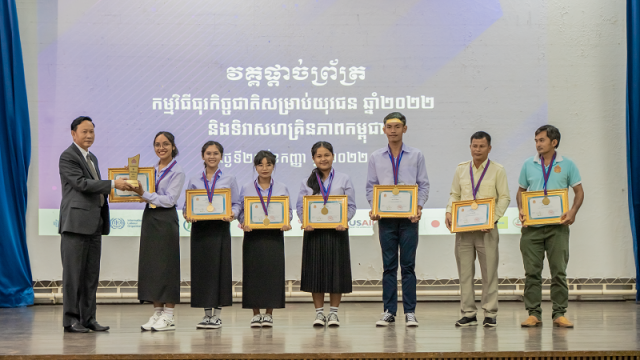 PHNOM PENH – A team from Koh Kong has taken first prize in the 2022 National Youth Business Awards.
Second place went to a team from Battambang province, with teams from Tbong Khmum, Kampong Speu and Kandal provinces coming third, fourth and fifth respectively.
Dychiveak Priya, a member of the Koh Kong team, said they were proud to bring honor to their school and their province.
Their winning business idea was about processing coconut shells into consumables. It aimed to reduce plastic use in villages, create job, reduce immigration and cut imports from neighboring countries.
"We are really proud because we are just a high school which can innovate useful things from coconut shells to serve the community, and now we win," she said.


Battambong ranked second in the competition. Photo provided

Tep Khim, from Net Yang High School in Battambang province, thanked teachers and his four teammates.
Their idea was transforming hyacinths into useful products such as hammocks, mats, flower pots, trash cans and baskets. The aim was to reduce migration, the use of plastic waste, increase community employment, increase community income, create ecosystems and areas with fresh air, and promote local products.
Khim appreciated the chance the program gave young people to learn about business startups, innovation and business plans.
"We feel very proud that we can bring honor to Battambang province and our high school," he said.
Serei Chumneas, Secretary of State at the Ministry of Education, Youth and Sport. said the program gave a chance to share knowledge and experiences from starting a business according to the preferences, resources available in the community, in line with the skills young people have to fit current and future job markets.
"The program encourages young people to share knowledge, have the courage to express themselves, be active and know how to work in a team, especially to present their work and business achievements with confidence," he said.
There were many challenges for startup businesses which had no training or where people just followed their parents.
"I have observed that some young people have started risky ventures but have not received orientation guidance and have not received entrepreneurship training."
Nadia Ottiger, deputy director of cooperation for the Swiss Agency for Development and Cooperation said earlier that the program was a great opportunity for young people to have a direct discussion with the government on how to promote youth entrepreneurship.
However, there was still room for improvement, especially for young people in rural areas and communities with limited opportunities.
"We need all of your creative and innovative ideas to respond to the many challenges at the present and the future. You can bring positive change in your own life as well as ours," she said.
The National Youth Business Program for 2022 was organized by the Youth Department of the General Department of Youth, Ministry of Education, Youth and Sports in collaboration with the International Labor Organization (ILO) under the auspices of the Khmer Enterprise, Decent Employment for Youth in Cambodia (DEY), Swiss Agency for Development and Cooperation (SDC), US Aid (USAID) and PACT Cambodia, Government of Japan, Smart Axiata, Wing Bank and The PIZZA Company which trains national and provincial trainers and 4,887 young people.
Semi-finals were held on Aug. 23, with 10 teams advancing to the finals. The 10 groups received business consultations with entrepreneurs, business owners or enterprises in their provinces on business acumen, strengths, weaknesses, analysis of competitors, market issues and production chains.


Related Articles