Kratie's Indigenous Communities Fear Traditions Lost to Illegal Logging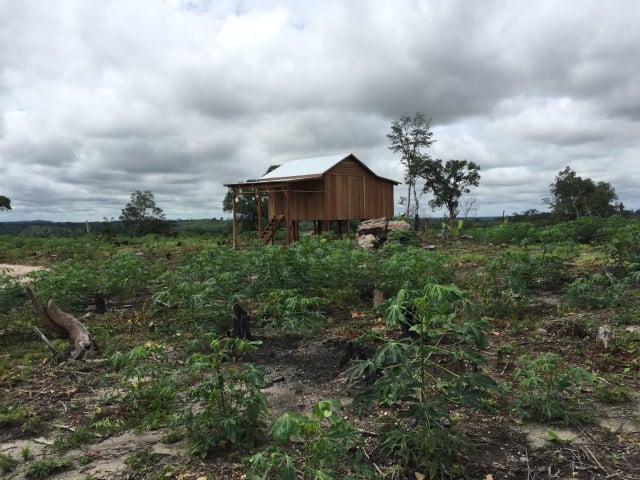 November 3, 2021 10:50 AM
Phnom Ses Community Forest is rapidly disappearing, and with it, a way of life for the Bunong indigenous community as illegal logging and plantation encroachment continues unabated
PHNOM PENH--The Bunong indigenous community of Phnom Ses Community Forest in Kratie Province have voiced concerns over increasing levels of encroachment onto their ancestral land, with both plantations and illegal timber extracting operations destroying their traditional sites.
Vice-president of the Phnom Ses Community Forest Hea Sam Oeun, 45, said that the community was granted 3,081 hectares of forest land in Kratie's Sambor District back in 2009 from local authorities and the Ministry of Agriculture—the community has been defending their forest ever since.
"We have been protecting the forest for our villagers," said Sam Oeun. "This forest land has potential as there are many resin trees, natural medicines and can feed us with its diversity of plants. It is also a holy place for worship. There are many sacred objects and spirits, as well as the gods. It's the place of our tradition."
However, between 2015 and 2016, the community forest lost more than 2,000 hectares of land which were cleared by cash crop plantation owners. Many ceremonial trees were replaced with cashew, mango and rubber plants, but Sam Oeun was outraged by the hypocrisy that enabled the destruction of his community's forest.
"I wonder how the encroachers dared to invade our community forest land as we have the letter issued in accordance with the law to control our property, yet if we dare to destroy one of their cashew seedlings, they say we are violating the law of property," said Sam Oeun.
The desecration of the Bunong community's forest was documented by the Cambodia Youth Network (CYN) who found 143 cases of illegal housing construction in Phnom Ses Community Forest after monitoring the situation on Sept. 25 and Sept. 26, 2021.
At least 58 of these illegal constructions had been erected this year, as CYN found 85 structures in September 2020. The theft of trees and encroachment onto Phnom Ses Community Forest continues on a daily basis and largely goes unpunished, CYN found.
Bun John, 42, a villager in the Phnom Ses Community Forest, said that he and the community have put a lot of effort to protecting the forest, but the number of threats to their traditional way of life—and the forest that sustains it—continues to increase.
"They use machines to cut the trees, and I don't know where they come from," he said. "If there is no proper intervention, our forest, from which we can take out resin and rattan, as well as vegetables for our daily meals, will be lost forever. I have developed chronic back pains in trying to protect it with relentless patrols."
"I don't know what to do anymore, the cases [of encroachment] are increasing uncontrollably," he added.
Sam Oeun said he had seen new techniques of deforestation for plantations, in which they spray chemicals to burn the roots of the logged trees and immediately plant their crop seedlings. He said he'd repeatedly warned those working for the plantations not to use any chemicals on the forest land, but they don't listen.
Despite numerous complaints raised with authorities, the lack of intervention on his community's behalf has led Sam Oeun to conclude that nobody in charge is paying attention to his plight.
"In the past, the provincial governor issued a letter twice ordering the departure of the illegal land seizers, but the number of housing and slums continues to increase," he said. "I would say they want to take hold of our community land. The authorities also told us that they would prepare their forces to suppress the encroachment and return the land to the community, but many years have passed, nothing happens," he said.
Even the documentation of CYN, whose first report on Phnom Ses Community Forest was released in May 2019, has done little to sway the mind of Sambor District Governor Som Sarith, who has so far declined to intervene in the years gone by.
"Instead, encroachment on community forest cover for personal plantations and housing construction is on the rise, while tens of thousands of cashew trees are growing on community forest land," CYN found.
When reached for comment, Som Sarith said that he was unaware of the issue and hadn't received a request from CYN to cooperate in their studies of Phnom Ses Community Forest.
"I don't know what to respond to because we never worked on such an issue. However, we have to take action on the criminals in accordance with the law," he said, but demurred as to whether he would in the face of CYN's latest evidence.
Meanwhile Kea Chamnan, commune chief of nearby Ou Krieng Commune, said that he has known of these encroachments into the Bunong community forest and has been working to investigate and prevent deforestation since at least 2018.
"I have been intervening on this matter, but I don't know about the further work of the relevant authorities," he said. "I can only file a complaint and confiscate the equipment used and dismantle the houses. Then the court will summon them as well as me to offer answers, but I don't know about what happens after that."
Many have been put jailed and then released, emerging unintimidated by their brush with the law, Chamnan said. Those caught logging in Phnom Ses Community Forest have even fought back against both the local authorities and the community when attempts were made to confiscate their equipment.
"They called the police and we were fined 500,000 riel [$125] for what we did not do. So, the community feels threatened and scared," said Chamnan. "However, I still keep taking action against the encroachers and send them to court."
Incidents like this have led Chamnan and others among the community to suspect that the loggers and plantation workers clearing Phnom Ses Community Forest must have some connection with authorities somewhere in Kratie Province.
"If they didn't, they would not be able to even enter the area," said Chamnan, adding that he doesn't know what more he can do besides sending the illegal land grabbers to court.
Heng Kimhong, CYN's program manager of research and advocacy, said that this land encroachment in Phnom Ses Community Forest is not a minor issue and that serious, transparent legal action must be taken at local and national levels.
"I urge the relevant and local authorities to take action in time to avoid further losses of our forest," he said. "If there is no intervention in Phnom Ses Community Forest, the other community forests nearby may face the same fate. There should be an investigation on why the local authorities seem careless to carry out their duties and to see whether the authorities are involved with this encroachment."
Saeng Sok Kheng, 42, a villager in the Phnom Ses community, said she wanted the authorities to be clear with the community whether they will return the land to the community or leave it for illegal loggers until the whole forest is gone.
"I request them to give our forest back," she said. "There are many houses being built illegally, and we, the villagers, are told that we are wrong patrolling and protecting our forest."
She said the forest in the Phnom Ses community has everything and is full of biodiversity and rich in everything from rattan, resin, medicines and vegetables can be found inside the forest.
"Indigenous and poor people like us will die and have nothing to depend on if the forest one day is gone," said Sok Kheng, adding that her traditions and culture will also be gone if the forest are destroyed.
Related Articles