Kulen Mountain: The Battle to Save Cambodia's Lost Ancient City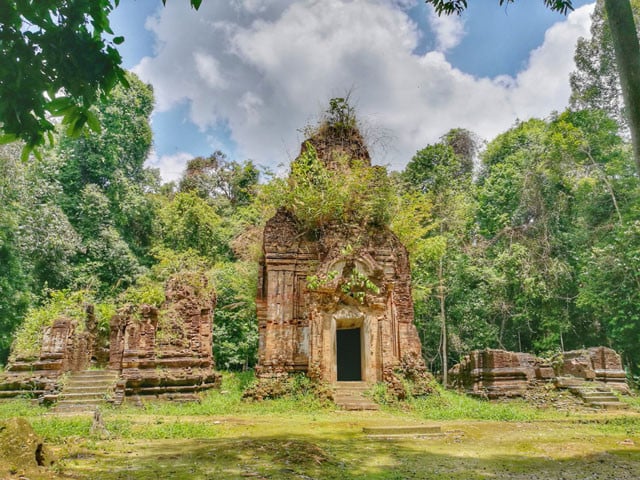 Ratha SOY, UNV Communications Officer, UNDP Cambodia
September 25, 2019 4:16 AM
The Birthplace of the Khmer Empire

The Angkor Wat Temples is one of the most archeological places known and visited by people around the world. However, few persons among the visitors (including Cambodians) are aware of the ancient civilization and alluring wonders hidden in the Kulen mountain.
The Kulen mountain or "Phnom Kulen" in Khmer language is home to an abandoned city that has existed for centuries. It's also known as the birthplace of the Khmer Empire—a glorious era that all Cambodians are proud of and have grown up hearing stories about.
In anceint times, all the Khmer monarchs, and even ordinary Cambodians, journeyed on a pilgrimage to pray and perform various rituals on the peak of the lush mountain. Today, Kulen Mountain remains to be a sacred place for Cambodians, where more than 50 temples and religous statues—dating back as far as the eighth and ninth centuries—can be found.
In addition to providing a religious sanctuary for Cambodians, Kulen Mountain is also rich in natural resources, and home to some of the world's most precious and endagered plant and animal species. Boasting a vibrant biodiversity, Kulen Mountain provides a natural habitat for thousands of species, and its tropical forests ensure life-sustaining waterways reach communities living on the mountain. Waterways on Kulen Mountain also feed into Siem Reap town, helping to stabilize the Angkor Wat foundation. For its natural beauty and unique ecosystem, Kulen Mountain was designated as one of Cambodia's national parks in 1993 by the Royal Government of Cambodia and listed as a World Heritage site by UNESCO in 2012.
Deforestration on Kulen Mountain
For centuries, the people of Kulen Mountain have relied mainly on forest resources, and on traditional agricultural practices, such as rotational, shifting cultivation. People have cleared forests and cultivated crops for years until soil fertility diminished, move on to new areas for cultivation and eventually returned to original areas when soil fertility was naturally restored.
(Photo by: Ratha SOY/UNDP Cambodia)


In early 2000s, the new form of farming, cashew farms, was introduced to Kulen Mountain. Since then, the number of cashew farms on Kulen Mountain has proliferated and began to replace traditional shifting cultivation. Cashew farming is attractive for farmers, as only after four-to-five years, they begin to yield impressive returns, which are up to seven times more than rice.
Whereas cashew nut farming has raised household incomes for many villagers in Kulen Mountain, the rapid expansion of cashew farms has also led to deforestation of Kulen's finite natural resources.
"I grow rice and cashew nuts. I have lived here for more than 30 years. When I first came here, there was a lot of forest, but now there is no forest," said Suon Nan, villager on Kulen Moutain
In addition to land encroachment and deforestation for agricultural purposes, illegal logging is also contributing to deforestation on the mountain. Phnom Kulen's forest coverage has fallen
from about 42 percent in 2003 to about 25 percent in 2017. The natural forest of Phnom Kulen may completely disapear within the next five-to-ten years if the this trend continues.
What Happens if the Forests Disappear?
"I noticed how much Kulen Mountain has changed. Before on the mountains there was so much forest and so much wildlife. I saw animals like squirrels, deer, and monkeys. Nowadays, I do not see any wild animals here," said Chin You, a villager living on Kulen Mountain.
Photo by: Ratha SOY/UNDP Cambodia
The forests of Kulen Mountain play an essential role in balancing the ecosystem on the mountain. If too much of the forest is destroyed, vital water sources that prevent soil erosion and sustain livelihoods will dry up.
The ground foundation of Angkor Wat is supported by the watershed that flows from Kulen Mountain. Some researchers claim that groundwater stabilizes the foundation. If the water source from Kulen Mountain were to dry up, the foundation under Angkor Wat would begin to sink, along with it the ancestral temples of the Khmer civilization.
Challenges in Protecting Kulen Mountain
Protecting Kulen mountain is not an easy task. There are a number of complex driving factors behind deforestation and resource mismanagement in the region.
The Ministry of Environment is responsible for managing Kulen Mountain national park. Effective patrolling and law enforcement faces numerous challenges, due to limited human and financial resources available to protect the vast areas—37,375 hectares—within park borders. As of August 2019, a total of 46 rangers are spread over seven sub-stations throughout three districts, according to Park Ranger Director, Soeurn Vibol. Preah Cheyvaraman-Norodom National Park on Kulen Mountain borders the districts of Svay Leu, Banteay Srey, and Varin.
(Photo by: Manuth Buth/ UNDP Cambodia)


Park rangers are also underfunded, earning only $250 per month with tight budget for patrolling which is around $30 a month. They sometimes use their own motorbike and other necessary gear to patrol the region. The job can also be dangerous, as rangers sometimes find themselves in violent situations with illegal loggers carrying around makeshift weapons.
The increasing migration and population are another factor threatening the sustainability of Kulen Mountain. Currenlty, there are more than nine villages living in the protected area, and increased development is straining natural resources. A lack of land use planning and designated building zones, combined with a lack of awareness on the importance of sustainable development, is contributing to deforestation and land degradation.
"The increasing population is one of the challenges on the mountain. Villagers must cut down the trees to expand their agricultural land, specifically to plant the cashew trees. It is the main reason behind increasing deforestation in this area," said Vibol park ranger director.
Furthermore, the increase in tourism has added another layer of challenge. The beauty of Kulen Mountain attracts hundreds of tourists to the region daily. Tourism has provided an important economic opportunity for the community to earn money from small businesses. However, large companies that cater to tourism are also moving into the region and there are issues with sustainability. For instance, there has been less attention given to maintaining the cleanliness on Kulen Mountain and waste management has become a significant problem. Having an effective and sustainable tourism development plan is crititical for the sustainable future of the mountain.
Protecting Natural Resources
Immediate action is required to protect this natural and culturally significant heritage site. There are already several initiatives that are working to preserve the region's natural resources.
For example, the GEF Small Grants Programme has been working with park rangers on Kulen Mountain to improve access to electricity, making it easier to carryout daily administration tasks. Through the project, a solar panel was provided to the park ranger station in Phnom Kulen. Prior to this project, park rangers had to make the long journey to Siem Reap town just to print off documents. The solar panel now provides enough electricity to meet the daily requirements of their staff office. The added electricity also ensures the rangers are equipped with fully charged GPS tracking devices, which are required when patrolling the region for illegal loggers.
Additional investment is needed to protect the remaining forest, facilitate reforestation, strengthen law enforcement, and drive awareness-raising campaigns. Under the REDD+ initiatives, at least 1,000 hectares of land on Phnom Kulen will be reforested by 2022. REDD+ initiatives also provide rangers and authorities at the provincial, district, and commune levels with training in participatory methods for engaging local communities in the safeguarding of remaining forests. Currently, five Community Protected Areas (CPAs) have been created to protect 923 hectars of forest on Kulen Mountain. These protected areas are under the direct management and protection of the local communities who rely on non-timber forest products.
Several initiatives are well underway to protect Phnom Kulen, but it's important to remember we're facing a situation that demands immediate action.
Our ancestors migrated from the capital on Kulen Mountain to establish the grandeur and complexity of Angkor Wat, leaving behind a vibrant cultural history and natural treasures. In all its alluring charm, Phnom Kulen is also delicate, and if we don't work to preserve its natural resources and pristine beauty, there will be nothing left on the mountain. There will be nothing left of our natural heritage.
Related Articles