Labor Activists Dismiss NagaWorld's Statement as "Unacceptable"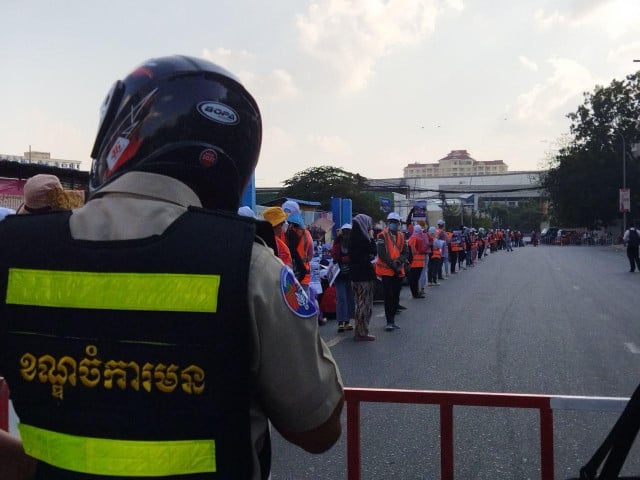 Local labor rights advocates, along with international trade unions and global labor rights researchers have condemned NagaWorld's justification for dismissing 1,329 workers in the pandemic
PHNOM PENH--Hong Kong-listed gambling giant NagaWorld announced on Jan. 24 that their decision to lay off 1,329 members of staff in April last year was a due to losses of $77 million in the first half of 2021.
In a rare public statement, NagaWorld claimed that the layoffs—which eventually culminated in an ongoing strike among former and current workers that began on Dec. 18 and continues today—were part of a series of cost reduction measures. Many staff who kept the jobs also saw a reduction in wages, but the company said that layoffs were chosen "based on business needs, past productivity, contribution and commitments," adding that "union membership was not used as a criterion as is alleged by the union."
The casino, which has exclusive gambling rights to Phnom Penh on a multi-decade lease, went on to say that its "Mutual Separation Plan" was not just in line with the Labor Law, but offered compensation "over and above" what was legally required.
This is at odds with the findings of the Arbitration Council, which issued a non-binding resolution stating that NagaWorld had underpaid 365 workers who had refused NagaWorld's compensation package.
Khun Tharo, a veteran advocate at local labor rights group CENTRAL, said the agreement arranged by NagaWorld is different from how the company actually implemented the agreement, particularly regarding compliance with the law.
"The act of laying off a big number of staff like this is a legal principle that requires approval from the labor inspection in Cambodia, but [NagaWorld's] application procedure to the labor inspection was abnormal," he said. "Especially, the dismissal of the union activists didn't legally comply with Article 95 of the Labor Law."
Tharo went on to say that the settlement initiated by NagaWorld can only be finalized if the legally chosen union representatives, eight of whom have been detained since the strike began, are released.
On Jan. 18, the International Trade Union Confederation—which represents unionists in Cambodia and globally—said that 1,100 of the 1,329 NagaWorld staff laid off were trade union members and accused NagaWorld of failing to comply with Cambodian law, while also criticizing the Ministry of Labor for failing to protect workers from NagaWorld.
Meanwhile on Jan. 25, the Business & Human Rights Resource Centre (BHRRC) issued a statement saying they were concerned "by ongoing allegations of labor rights violations at Nagaworld, Cambodia, particularly relating to the undermining of the right to freedom of association, incomplete payments and unfair dismissals."
According to BHRRC, the alleged violations reflect a broader trend of increasing attacks against human rights defenders in Cambodia, with 93 attacks recorded between 2020 and 2021.
BHRRC said that 42 of these attacks were on peaceful protesters while one in five of the incidents targeted labor leaders and trade unionists.
Leaders of the Labor Rights Supported Union of Khmer Employees of NagaWorld (LRSU) were arrested in a New Year's Eve raid on the LRSU office, with police seizing laptops and phones of unionists. Chhim Sithar, LRSU's president, was violently arrested on Jan. 4 while attempting to join unionists in their strike which was barricaded in front of the Australian Embassy in Phnom Penh.
In total, some 30 people were arrested in conjunction with the December 2021 strike that followed the April 2021 layoffs, but only eight remain in custody and face charges of incitement.
Despite the detention of key LRSU leadership, the strike has continued, with public scrutiny shifting from the company's decision to fire union members to the government choosing to arrest peaceful strikers, with the UN Special Rapporteur on human rights in Cambodia vocally condemning the arrests alongside other civil society actors.
"The key to solving this problem is by NagaWorld allowing the union activists to return to work in their old positions within the company again," said Tharo, who added that the reasons for the layoffs given by the company were unacceptable.
He went on to suggest alternative means of dealing with situations by suspending workers temporarily during crises like the COVID-19 pandemic and providing a package for those who are temporarily suspended until the company required them to return to work.
By his own estimations, 700 NagaWorld staff are demanding the return of their union representatives to the company, while 365 are protesting to be allowed to return to their jobs.
"But the problem is will NagaWorld be willing to take their employees back to work?" Tharo said. "If the company takes those 365 union activists back, accept the conditions for suspension and the eight union leaders are released, then the problem will be solved."
Additional reporting by Gerald Flynn
Related Articles