Laid off Cintri Workers to Seek Help from Labor Ministry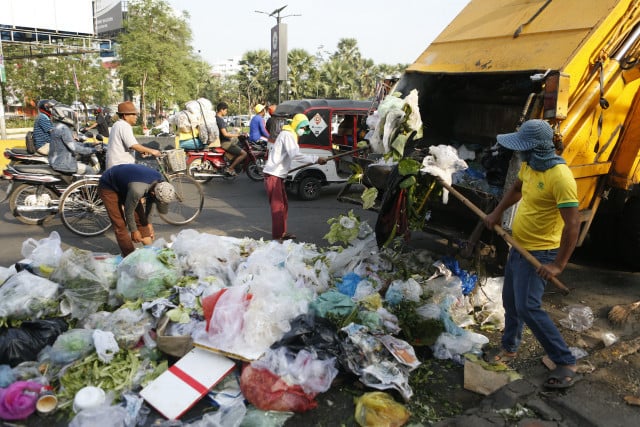 New companies accused of shunning union activists
PHNOM PENH--The union leader of former Cintri (Cambodia) workers is to ask the Labor Ministry to solve the problem of employees who were laid off by the trash collection company but not recruited by new contractors.
Kao Savat said most of around 1000 laid-off employees including himself are still unemployed. He said there has been discrimination because most of those not hired were union leaders or had taken part in strikes.
Cintri lost its contract with the government for collecting and managing trash in October last year.
In February, Singaporean firm Global Action for Environment Awareness Public Limited (GAEA Waste Management) and Chinese firm Mizuda were also granted licenses to manage waste in Phnom Penh.
"The laid off workers are those working in districts which are not under Cintri's collection zones like me," Savat said.

"We are unemployed and my fellow workers have applied for jobs at the two new garbage collection companies. But some have been recruited while some others have not.

"They said they would not accept any activists who had protested before even they apply. That is why I did not apply," he said.
Most of his former colleagues who had not been recruited are activists and elderly women.
Savat said he had met the deputy governors of Phnom Penh in early July but did not get any results as the deputy governors still urged former employees to keep applying to the new companies.
Sa Ray, who managed to stay employed at Cintri, said that there could be many factors involved in the issue, but he pointed out that City Hall promised that Cintri's garbage collectors would not lose their jobs.
Many of his colleagues lost their jobs after the zones for the three collection companies were divided up.
"During the strike, the City Hall promised to be responsible for ensuring that those who worked with the older garbage company would not lose their jobs, but now some of them have lost their jobs," Ray said.
"It is difficult to resolve and protest against because no one knows whom they should meet to find a solution. It is because not all employees were laid off and Cintri no longer has work for them as the zones under ​​the company's management have been reduced."
President of the Cambodian Federation of Tourism Workers' Unions Touch Kosal said the loss of the jobs of many union leaders and activists was an attempt to eradicate the union's voice.
"We are preparing the case of the former Cintri employees to request the Ministry of Labor to help solve it," Kosal said. A meeting with the deputy mayor did not seem to be fruitful. There was just a promise to facilitate the problem.
He said also that the former Cintri employees who were fired still have two months left on their contracts.
Toun Sipheng, operation manager at Cintri, said the company is responsible only for the zones where it has the right to collect garbage. For former employees who work in other districts, the City Hall is responsible.
"Normally, we cannot receive more than 1000 of them, knowing that the garbage collection in the 14 districts has already been divided into three zones," he said.
"Thus, we can only afford one zone or four districts. And everything else is the responsibility of the Phnom Penh Administration."
When contacted, deputy governors Keut Chhe and Mean Chanyada refused to comment and referred questions to City Hall spokesperson Met Meas Pheakdey.
However, Meas Pheakey could not be reached for comment.
Mizuda administrative director Ya Tharith said his company did not discriminate against Cintri union activists and said the accusation was by individuals or a small group.
He said recruitment was done carefully based on correct principles, indicating that the company had enough workers and had suspended recruitment.
"We have done nothing to discriminate against anyone. We have a policy to select only 500 people, and now more than 500 people have been selected so they can take turns," Tharith said.

"We have to recruit some new people and some experienced people. And when we asked them carefully to make sure they don't remain in contact with the old company, this is to avoid any problem with Cintri.
"We asked them so that we know they are no longer involved with their previous job."
Cambodianess could not reach Chi Vun, human resources manager at GAEA Waste Management.
Related Articles