Lakṣmī and Hayagrīva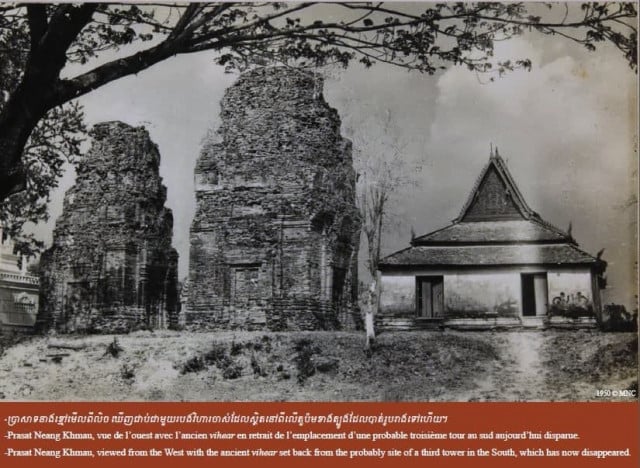 PHNOM PENH--The National Museum of Cambodia in collaboration with the École française d'Extrême-Orient (EFEO), or French school of Asian studies, has been holding its first virtual exhibition to commemorate the 100th anniversary of the museum. During the exhibition period, some sculptures and their histories are to be displayed digitally. With the approval from the National Museum of Cambodia, and in contribution to the promotion of Khmer cultural heritage, Cambodianess is pleased to present an overview on"Lakṣmī and Hayagrīva."

Brought back to the museum in 1923 by George Groslier, these two statues, then without their heads, come from Prasat Neang Khmau, "The temple of the Dark Young Lady", a temple from the 10th century with two brick towers still standing in the enclosure of the Wat Borannivés 4 km West of Phnom Chisor.

Legend has it that a beautiful princess Neang Khmau from Phnom Chisor, was once banished by her father after falling in love with a young man who attract- ed her by playing sweet music with a leaf. Condemned on the orders of her father to live as a recluse in a temple located on the plain, she eventually forgot her first love and fell in love with a monk who abandoned his vows on her account and married her. This is how the temple got its name. The statue of the female figure located in the north tower before it was transferred to the museum, was presumably thought to embody the princess.

In 1995, during the reconstruction of the vihear, which had been built near a third tower that has now completely disappeared, a sandstone horse head was found by the monastic community. It was entrusted to Prime Minister Samdech Akamuhasenapati decho Hun Sen, who gave it to the museum in 1996.
Four years later, it was discovered that the horse's head belonged to the statue of the male deity. Without an attribute, it is difficult to know which of the two avatars of the horse-headed Vishnu is represented here, Hayagrīva, Rescuer of the Vedas, or Kalkin, the Savior of the future. However, since epigraphy of the Khmer-speaking regions frequently mentions the first, while the second does not appear, it should be a representation of Viṣṇu in the guise of Hayagrīva.

From the doorjamb inscriptions preserved on the two remaining towers, it is possible to envisage that a representation of Viṣṇu Trivikrama, "Vishnu reclaiming the three worlds – heaven, earth and hell – in three strides", was installed in the central tower while Hayagrīva was placed to the south and Lakṣmī ("The Dark Young Lady") to the north.

After the towers were restored in 2019, casts of the two statues were installed in each one.

Text provided by the National Museum of Cambodia
Related Articles