Land Minister Demands Salt Fields Protection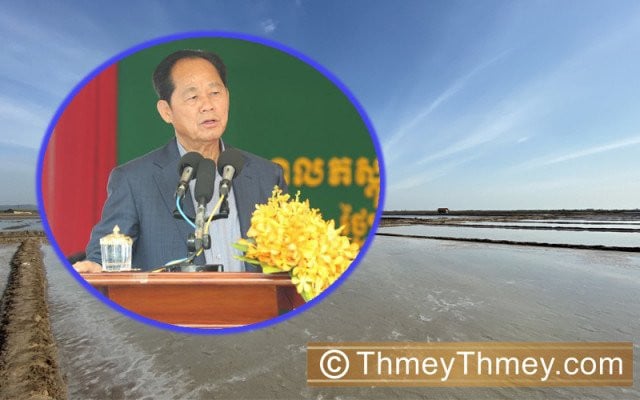 Governor told not to allow house-building
PHNOM PENH – Land Management Minister Chea Sophara has called for the protection of nearly 4,000 hectares of salt fields in Kampot province.
Speaking during the groundbreaking for the construction of a deep-water port in Kampot province on May 5, he said the salt fields must be saved to produce natural salt for domestic and foreign markets.
There were 3,726 hectares of salt fields in the province. "This figure must be kept," he said, demanding that provincial governor Mao Thunin manages the salt fields properly and does not allow them to be used for building houses.
He urged all relevant authorities to encourage farmers to increase salt production to supply the local and export markets.
Kampot salt is considered a special commodity of Cambodia, as it contains a lot of iodine, which helps prevent goitre, and is better than salt imported from Vietnam and other countries, he said.
Bun Narin, technical director of salt production at the provincial Department of Industry, Science, Technology and Innovation, said that in the first four months of 2022, farmers produced only about 20,000 tonnes of salt due to weather conditions, especially heavy rains during February and March which were the main months for salt collection.
In the past, Cambodian salt in quantities of one to two tonnes has been exported to some European countries such as France and the Czech Republic.
Cambodia needs about 100,000 tonnes of salt per year. In 2014, 2015 and 2016, Cambodia harvested more than 100,000 tonnes of salt annually. However, production declined in 2017, 2018 and 2019 when Cambodia had to order salt from India, China and Thailand to meet domestic demand.
In 2020, Cambodia produced 84,000 tons of salt and in 2021 produced only 67,000 tons.
Kampot provincial Department of Industry, Science, Technology and Innovation director Sok Kim Choeun has said that in favourable weather conditions, one hectare of land can produce an average of 20 tonnes of salt per year.
According to the draft of the government's masterplan 2020-2035, Kep and Kampot provinces have plans to transform the coastal region into a salt museum to attracting foreign and local tourists.
Related Articles