Laos Plans to Link to Cambodia via Railroads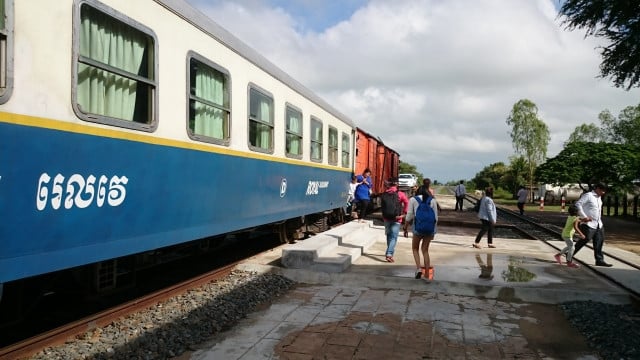 PHNOM PENH – A high-level delegation from Cambodia's National Assembly on Sept. 14 and 15 visited the Vientiane Logistics Park in Laos whose railroad may connect the two countries in a not too distant future.
Developed by the company Vientiane Logistics Park Co., Ltd, the railway line will mean faster goods transport with easier procedures, according to Men Sam An, deputy prime minister and minister of the National Assembly-Senate Relations and Inspection, who headed the delegation during this official visit.
At the meeting, Vientiane Logistics Park's representatives explained to the delegation that plans are to have the railroad line link the two countries so that goods, and especially Cambodian agricultural products, can be transported to China easily and at a fast pace, Sam An wrote on her Facebook page on Sept. 15.
"According to a report by Vientiane Logistics Park port management, this is a local investment project worth more than $700 million to connect the railway from Laos to China and ASEAN countries, and from Laos to other countries such as Europe, Germany and so on," she wrote. "This will transform Laos, which has no seaport," she noted, "from land-locked to land-linked to the rest of the world."
Sam An concluded that this truly impressive project, which involves a major investment and a long-term vision on the part of Laos, is a project to be proud of because it will use local capital. Moreover, this project is in line with Cambodia's 2021-2030 master plan of connecting multi-model transport and logistics that includes more than 330 projects worth of $50 billion, she said.
Sam An added that, as she is getting ready to make a report to the Cambodian government regarding this project, Cambodia will always be happy to look into studies regarding a railroad link between Cambodia and Laos.
Kong Vimean, spokesperson for the Ministry of Public Work and Transport, said that there is no further information about a railroad-link project at the moment.
Potential Benefits of the Railway Project
Sun Chanthol, minister of Public Works and Transport, said on Sept. 16 that Cambodia has been prioritizing several projects to improve the transport and logistics sector in Cambodia, including transportation (via roads, waterways, by air or railways), ports and policy framework on transport and logistics.
As Chanthol explained at the ASEAN Regional Working Group Meeting of the World Economic Forum on Sept. 12, multi-modal transport and logistics connection will facilitate trade links between countries along the Mekong River including Cambodia, Laos, Myanmar, Thailand and Vietnam, and southwestern China, making them more competitive in terms of time and low shipping costs.
Hong Vanak, an economic researcher at the Royal Academy of Cambodia, said that the Vientiane Logistics Park project will play an important role in transport from Cambodia not only to Laos, but also to China, and vice versa, once the project is completed.
In other words, more alternative for transportation and more goods such as agricultural products and construction products will be transported across borders, he said.
"First, the project will facilitate trade links between the countries, and second, the shipping cost is lower than with other means of transportation," Vanak said. "Third, transporting by railroad is a direct road trip, so there are fewer stops on the way, and that will cost less and take less time than other transporting methods." In addition, maintenance costs for railroad will be less than for roads on land, he added.
Regarding the tourism sector, this new alternative for travelling will attract more tourists travelling by trains, and the improvement of infrastructure will also allow more foreign direct investors to look at Cambodia, Vanak said. "The links between railroad networks in Cambodia to other countries will boost the country's transportation competitiveness even more," he said.
Related Articles